On February 2-3, Rebecca and Nour Botros will host FPC's 2019 Global Mission Conference. The conference will transport us to the ministry of peace and reconciliation among the Syrian refugees in Lebanon, among the Ambo-Pasco Quechuas in Peru and with our international students here in Baton Rouge.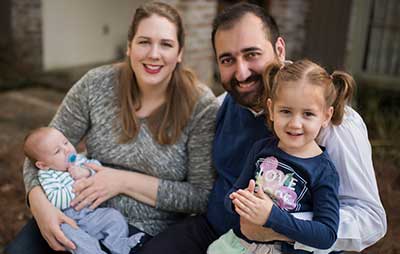 Rebecca and Nour Botros
World Outreach, Lebanon
Nour and Rebecca (members at First Presbyterian) are serving in the Middle East with World Outreach, the sending branch of the national Evangelical Presbyterian Church. Together with their children Julia and Joseph, they are primarily involved in ministry to Syrian refugees living in the poor urban communities of Beirut. In addition to discipleship efforts and home visits, they assist in Arabic literacy projects, food and clothing distribution and medical outreach.
Nour, a Syrian-American whose first language is Arabic, also leads worship at a local Lebanese church and is involved in Arabic Christian TV programming that's broadcast across the Middle East.
Rebecca is the primary caregiver for Julia, homemaker, and in the midst of Arabic language studies and continuing a Master's of Religion from Gordon Conwell Theological Seminary in Islamic studies.
Marilynn and Ralph Toliver
Wycliff Bible Translators
Marilynn and Ralph Toliver worked for 30 years in the Andes mountains of central Peru with the goal of translating the New Testament into the language of 90,000 Ambo-Pasco Quechua speakers. Ralph also did linguistic studies of the Ambo-Pasco Quechua language, helped develop a written literature in that language, and, with his co-translator Lorenzo Albino, translated the New Testament. Marilynn developed Bible study materials for women and Vacation Bible school materials for children. She also trained speakers of Ambo-Pasco Quechua to teach these materials and to develop and teach similar materials themselves.
Ralph and Marilynn currently live in Dayton, Tennessee where Ralph has been doing final editing of the translation. Recently Ralph and Lorenzo, along with a team of four other Quechua speakers, read through the entire New Testament to find places where the translation needed to be improved. After layout is complete, the New Testament will be printed.
Read more about Wycliff Bible Translators

MacGregor Magruder
Center for Mission Mobilization
MacGregor is the International Operations Director for The Center for Mission Mobilization overseeing teams on the ground in Africa, East Asia and Latin America. His wife Ashley is the International Womens Coordinator ensuring that the families and single women serving on CMM teams are healthy and set up for success. They recently transfered to Malaysia from Nairobi, Kenya.
Read about the Center for Mission Mobilization
Scott Castleman
Senior Pastor of First Presbyterian Church
Ocean Springs, MS
Scott Castleman is the senior pastor of First Presbyterian Church (EPC) in Ocean Springs, MS where he has served for the past 10 years. He has been married to Rebecca for twenty years and they have three children (17, 14, 12).
Children's Mission Conference
Children are very much a part of this year's conference. While it may seem impossible to reach the entire world with the message of Jesus, boys and girls don't have to do it alone. Properly equipped and relying on the strength of the Holy Spirit, Mission: Impossible becomes Mission: Possible! We'll have a children's track teaching the same messages the adults are hearing.
International Friendship Partners Lunch
Your registration for the conference covers both the sessions AND the IFP lunch.
Having fed your mind and spirit, feed your body with delicious and unique food from around the world! And while you're at it, make some new friends with internationals from around the globe living right here in Baton Rouge. Our International Friendship friends and partners, along with some members of First Presbyterian, will provide exotic food from Asia, the Middle East, Africa and Latin America. Come hungry, and enjoy a relaxing time getting to know these wonderful guests of our country!
Children may be picked up from their workshop at noon and join parents for lunch. Parents whose children will not care for the international food are welcome to pack a lunch.
Conference Schedule

SATURDAY, FEBRUARY 2, 2019
9 am Light Breakfast
Reception Room
After breakfast, parents may drop off nursery-age through Kindergarten children in the So Loved nursery hall in the Education Building. Children in 1st through 5th grades may be dropped off in the Kingdom Kids hall on the lower level of the Sanctuary Building.
9.30 am Session 1
Rebecca and Nour Botros
Sanctuary
10.30 am Break
10.45 am Session 2
Rebecca and Nour Botros
Sanctuary
Children may be collected after this session and join parents in the gym for the International Friendship Partners banquet.
12 pm International Friendship Partners Lunch
First Presbyterian Church Gym
Parents are welcome to bring their child's lunch.

SUNDAY, FEBRUARY 3, 2019
Note: We will have three worship services and one combined adult Sunday school.
7.45 am Chapel Communion Worship
Guest Preacher: Scott Castleman
9 am Contemporary Worship
Guest Preacher: Scott Castleman
10.10 am Session 3
Combined Adult Sunday School
Guest Teacher: Marilynn and Ralph Toliver
First Presbyterian Church Sanctuary
11 am Classic Reformed Worship
Guest Preacher: Scott Castleman

Your registration covers both the conference sessions AND the IFP lunch.
The cost to attend is $10 per person or $30 per family.