FPC Hosting Gulf South Presbytery Meeting
Posted: 04/10/2018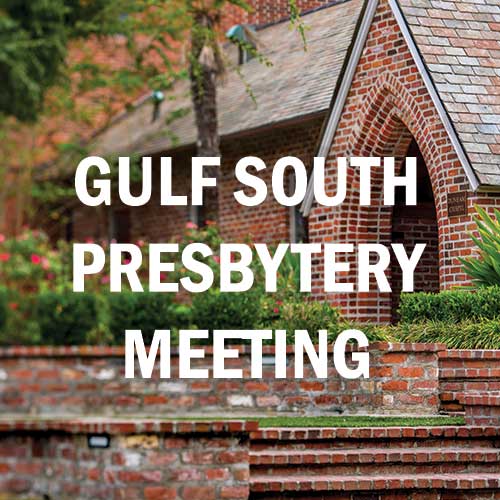 Registration to attend the meeting (both the pastor's retreat and the presbytery meeting) can be found here.
Presbytery Meeting Volunteers.
On April 27-28 we will host the pastors and elders of the Gulf South Presbytery. We expect over 160 guests for fellowship, prayer, worship and important business that happens every presbytery.
Linda Glisson
and
Meagan Greene
are heading up our efforts. Please contact them about how you can help greet, bake or lend a hand wherever needed.
Company Coming: Help Us Spruce Up. We're hosting a church clean up morning, Saturday, April 21 from 10 am to noon. The following weekend, our church hosts the meeting of the Gulf South Presbytery. We've got some wiping, washing, organizing and straightening to do. Come get grubby with us!
Rousing Worship! Friday April 27. Join a hundred energized elders and pastors for worship in our Sanctuary. We're hosting the meeting of our Gulf South Presbytery and gathered worship on Friday night is always a highlight. Would you like to hear the roof raised? Presbytery worship is glorious. Join us at 7 pm as we glorify the ascended Jesus.
Encounter World Outreach
Mission Encounter World Outreach is for all who are interested in missions (FPC members too!). This two day event is held in conjunction with the Gulf South Presbytery meeting at First Presbyterian Church Baton Rouge on April 27 and 28.
For those considering becoming a missionary, we'll cover:
What is it like to be a missionary?
How do I know if God is calling me?
What are common obstacles to pursuing missions?
What are the options for going out with EPC World Outreach or being on a Home Team?
What are the options for going out with another agency?
For churches considering working more with EPC World Outreach, we'll cover:
What is the mission focus of EPC World Outreach?
What is Engage2025 and ITEN?
What are Presbytery Home teams?
What can our church do with EPC World Outreach?
By the end of the Encounter, you will have a better understanding of EPC's global mission focus.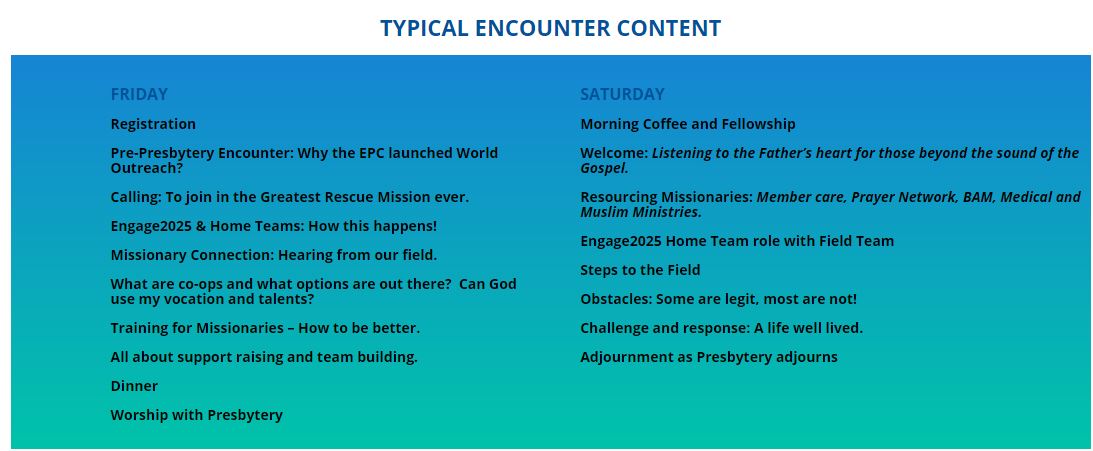 The cost for this is $25. Meals are not included.
Back to News