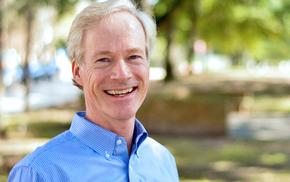 Gerrit joined the First Presbyterian family as senior pastor in 2004. Prior to that he served in Lenoir, NC and keeps roots close by with a cottage in Brevard, next door to his wife Rhonda's family. They have four grown children and a two grandsons. They also have three dogs that are an integral part of their family life. Rhonda is an avid painter.
Gerrit has deep SEC roots from his undergraduate days at Vanderbilt (Rhonda graduated from Georgia). He went to Princeton Theological Seminary for his M.Div and Reformed Theological Seminary in Charlotte, NC for his Doctor of Ministry. His interest in theology has led him to write several books, including
The Blessing Life
, which features stories of many members of this church. His most recent publication is
Raising Adam; Why Jesus Descended into Hell
. He considers good spiritual writing to be a form of praise.
Gerrit has set a vision for our church to have a heart for the city and he engages this vision personally in several ways. He mentors a student at Gardere Community Christian School and remains active as a consultant to their board. He is the chairman of the
Christian Outreach Center
downtown and active in
Caring to Love
, a crisis pregnancy ministry. Additionally, he is active in the Gulf South Presbytery, our local affiliation of churches, with a particular concern for solo pastors. Gerrit loves being our pastor and is happy to meet individuals as needed.
He also loves J.R.R. Tolkien, movies from the 40s, George Herbert, the Miami Hurricanes and Harry Potter.