We have a great tradition here at First Presbyterian in our Confirmation class. Our students spend their 6th grade year of Sunday school in confirmation. This is the class that prepares students for making a public profession of faith in Jesus Christ and thereby joining our church. Of course, most importantly, this is the year we explore what it means to have a personal relationship with Christ.
Our program is entitled: The Top 35 Bible Passages: The Verses You Can't Live Without. We'll study the essential content of the Scriptures with a particular focus on how to know God through Jesus Christ as he is revealed in his Word. Every lesson will be jam-packed with important material. Indeed, of all the things your child will study and do this year, none will be as important as Confirmation class. We can make such a bold claim not because we at the church are so great, but because God's Word is the truth that leads to everlasting life. We want your children to have the knowledge that leads to salvation and an eternal loving relationship with God.
First Day of Confirmation Class is Sunday, August 14 in room 220 of the Sanctuary Building.
Confirmation Kick Off Party: Friday, August 19
Breakfast with Your Elder: Sunday, October 30
Polar Thang Retreat: January 13-15, 2023
Confirmation Service: Sunday, May 7, 2023
Students, please remember, you are required to fill out ten Sermon Notes sheets per semester or 20 for the year. A handy link is below. After filling it out, you may take a photo of it and email to
Jaci Gaspard
.
Please take a look at our Confirmation Booklet below. It includes all the details on memory verses, important dates, student obligations, sponsoring elders, etc. It's THE Confirmation resource.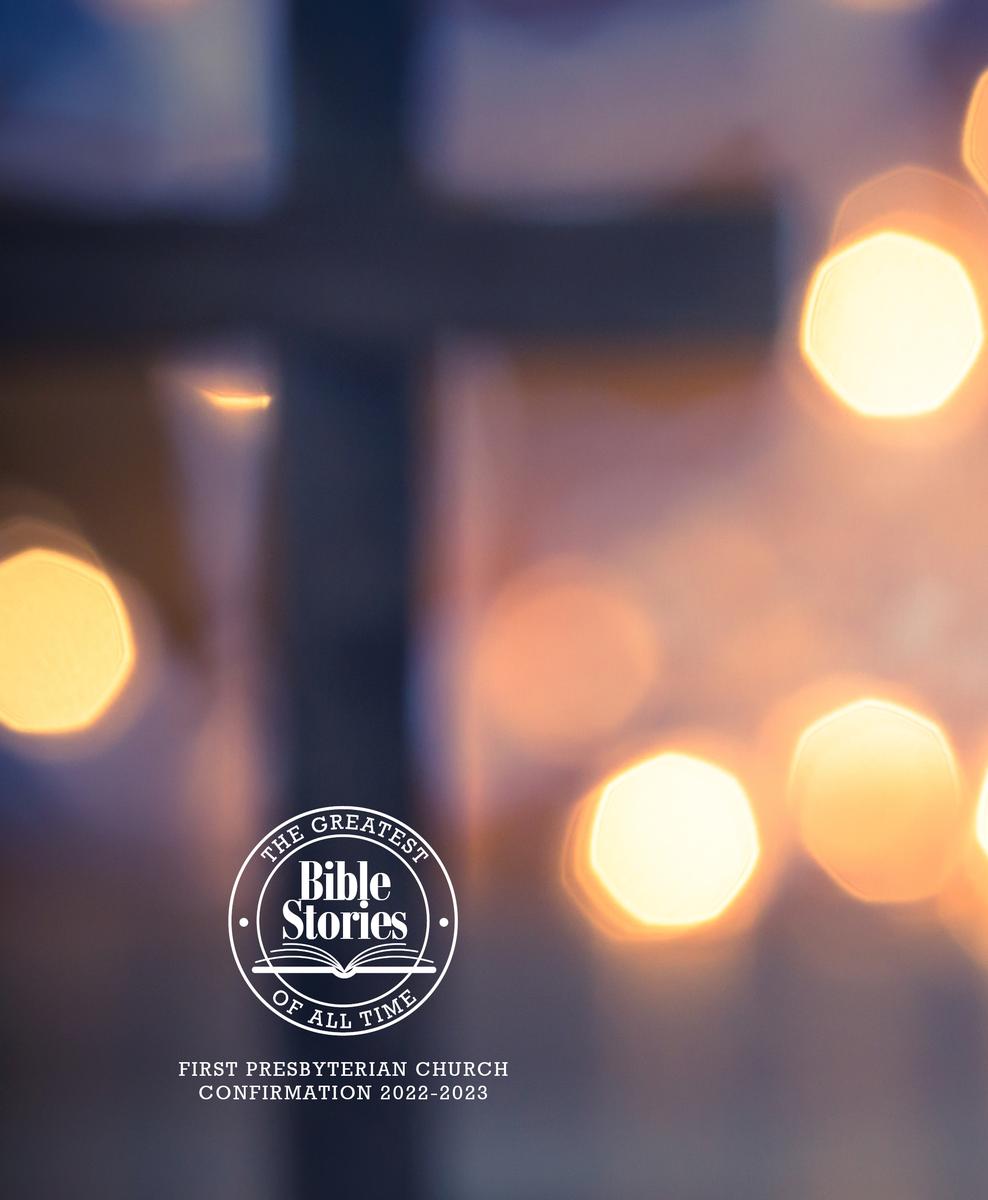 Confirmation Memory Verses
STORY SET 1: IN THE BEGINNING
Memory Passage: Psalm 139: 13-14
September 13
Genesis 1: 1, 25-28, 31
God Made the World
September 20
Genesis 2: 5-9; 15-25
Psalm 139
God Made You On Purpose
September 27
Genesis 3: 1-24
Fall: We Messed Up
October 4
Genesis 12: 1-4
Genesis 18: 1-15
Abraham and Sarah
October 11
Genesis 22: 1-18
The Horror: Sacrifice of Isaac
STORY SET 2: RADICAL SALVATION
Memory Passage: Deuteronomy 6: 4-6
October 18
Exodus 3: 1-17
God Hears: The Call of Moses
October 25
Exodus 12: 21-28
Exodus 14 19-31
God Saves: The Passover and Exodus
November 1
Exodus 19: 1-6
Exodus 20: 1-17
God Speaks: The Ten Commandments
November 8
Exodus 32
We Forget: The Golden Calf
November 15
Deuteronomy 6: 4-25
The Purpose of All These Words
STORY SET 3: THE PROMISED MESSIAH
Memory Passage: Psalm 23 (KJV)
November 22
Psalm 23
Our Shepherd God
November 29
Thanksgiving Break
December 6
Luke 1: 26-38
Matthew 1: 18-25
Mary and Joseph
December 13
Luke 2: 1-7
The Story of Christmas
December 20
John 1: 1-14
The Mystery and the Mystical
December 28
No Class
STORY SET 4: JESUS' MINISTRY
Memory Passage:
John 1: 1-5
John 3: 16
January 3
Matthew 3: 13-4: 11
Baptism and Temptation of Jesus
January 10
Luke 5: 1-11
Calling Disciples
January 17
Polar Thang Retreat
January 24
John 3: 1-18
Nic at Night
January 31
Luke 15: 11-32
Two Different Brothers
February 7
Luke 10: 25-37
The Good Samaritan
February 21
Luke 19: 1-10
Last Man In
STORY SET 5: JESUS' PASSION
Memory Passage:
Romans 3: 23
Romans 5: 8
Romans 6: 23
February 28
Matthew 26: 17-46
The Lord's Supper and Gethsemane
March 7
Matthew 26: 47-75
Arrested and Tried
March 14
Matthew 27: 32-56
Crucified
March 21
Matthew 28: 1-20
Resurrected
March 28
Palm Sunday
April 4
Easter
April 11
Luke 24: 13-35
On Emmaus Road
April 18
Acts 1: 1-11
ascended and Returning
April 25
The Questions of Membership
May 2
Review in Morning
Confirmation at 4 pm
The Apostles' Creed
I believe in God the Father Almighty,
Maker of heaven and earth:
And in Jesus Christ his only Son our Lord,
Who was conceived by the Holy Ghost,
Born of the Virgin Mary,
Suffered under Pontius Pilate,
Was crucified, dead and buried:
He descended into hell;
The third day he rose again from the dead;
He ascended into heaven,
And sitteth on the right hand of
God the Father Almighty;
From thence he shall come to judge
The quick and the dead.
I believe in the Holy Ghost;
The holy catholic church;
The communion of saints;
The forgiveness of sins;
The resurrection of the body,
And the life everlasting, amen.
The Lord's Prayer
Our Father who art in heaven, hallowed be thy name. Thy kingdom come, thy will be done, on earth as it is in heaven. Give us this day our daily bread; and forgive us our debts, as we forgive our debtors; and lead us not into temptation, but deliver us from evil. For thine is the kingdom and the power and the glory, forever.?Amen.