FPC Women's Ministry Vision
The mission of First Presbyterian Church Women's Ministry is to nurture women as they grow deeper in Christ and further into the world through studying God's Word, partnering in prayer, cultivating meaningful relationships and gathering in intentional life-on-life fellowship. Our prayer is that every woman feels poured into, supported and has a place and a purpose in our church body as we encourage each other as ambassadors of the gospel.
Draw Near Fall Stay-Treat
Saturday, October 23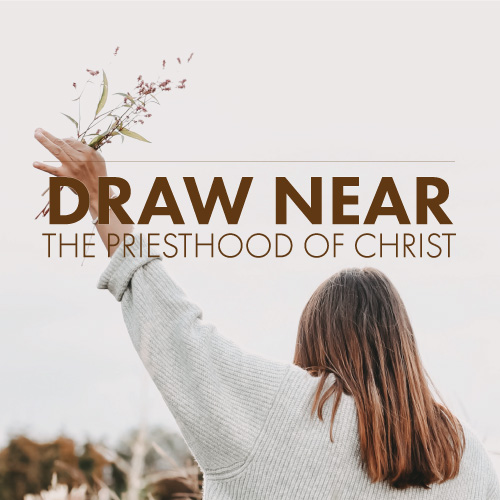 What was the role of the high priest under the Old Covenant and what did this priestly work accomplish? How did Jesus perfectly fulfill the role of our Great High Priest during his earthly ministry and what did his work accomplish? In what ways does Jesus continue to intercede on our behalf in his heavenly ministry and how does that impact our prayer life today?
Join us for our Women's Ministry Fall Stay-Treat, where we will take an in-depth look at the significance of the priesthood of Christ through which we draw near to the Father with a better hope.
Saturday, October 23
First Presbyterian Church Reception Room
8.30 am – 1 pm
Register online ($20)
Bible Studies
Fall Bible Study: Esther
September 8-November 18 (Dates shown reflect postponing the start of the study by one week because of Hurricane Ida)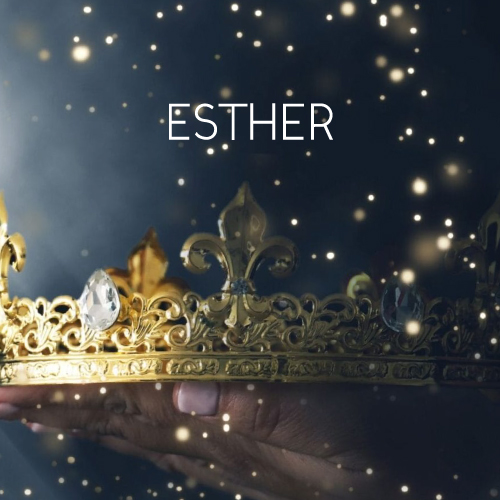 The book of Esther tells how an exiled Jewish girl became the queen of Persia and, with the help of her cousin Mordecai, rescued God's people from those that sought to destroy them.There were no signs and wonders, no special revelations, no miracles. This teaches us that God's plan is often achieved through his divine providence working through ordinary events. Even the actions of those that oppose God are woven into the purposes determined by him.
Esther's story also teaches us that God's sovereignty does not negate human responsibility. He has set us apart, to live in this world with courage and integrity, to carry out the responsibilities before us and to trust him to protect and provide for us even when we cannot feel or see him. In fact, God is never mentioned in the book, revealing that even when he is most conspicuously absent, he is all-powerfully present. He providentially watches over us and no power leveled against us will ultimately prevail.
Our Esther fall study begins the week of September 1 and concludes November 11.
There are two ways to participate:
Wednesdays @ 6.30 pm via Zoom (link and password below)
Thursdays @ 9.30 am, FPC Room 202. Childcare available by contacting
Jaime Carnaggio.
Do you desire to teach Bible study? Contact
Jaime Carnaggio
to learn more about becoming equipped and trained to teach God's Word and serve within the church community.
Circles
The Women's Ministry Circle book for 2021-22 is The Envy of Eve: Finding Contentment in A Covetous World, by Melissa Kruger.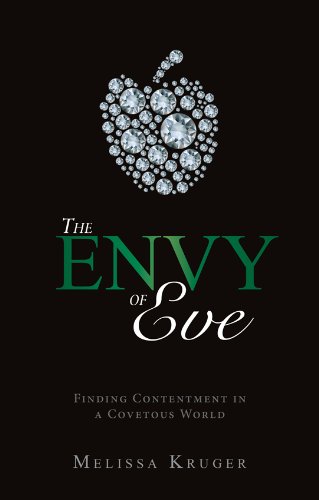 If only I were . . .
My life would be so much easier if . . .
I would be happier if I had . . .
Why are my circumstances so much harder than . . .
I just wish my life looked more like . . .
Have you ever said these words aloud or had thoughts along these lines? Have you ever felt slighted, discouraged or even angry about your life circumstances as compared to those of another? If we answer these questions honestly, we have to admit that even as Christians, we all fall into the trap of covetousness, a sin of which we are often either shamefully tolerant or guiltily hide from others.
The Envy of Eve exposes the reality of our covetousness, examines its ugly roots and explores the depth of this common sin in our lives. Through the illustrations of biblical figures such as Judas, David and Joseph, we see how discontentment, unbelief and a failure to trust God rob us of a life fully satisfied in Christ. And we begin to see that it is not our circumstances, relationships, or our abilities that need transformation . . . it is our hearts!
Although this self-examination and acknowledgment of sin is not easy, there is good news on the other side of true repentance and a humble recognition of our need. Through the truths of Scripture, as applied by the Spirit, we are pointed again and again to the sufficiency of the Lord Jesus Christ, who sets us free from a life of desiring anything but him.
Join us this year as we discover how to replace covetousness with contentment and are drawn toward true joy in a life of gratitude and service that more fully honors and glorifies our Heavenly Father, who has given each of us a cup that truly runs over, if only we have the eyes to see.
Women's Circles meet monthly for study, prayer, and fellowship from September through May.
Contact
Jaime Carnaggio
if you are interested in either joining or leading a Circle.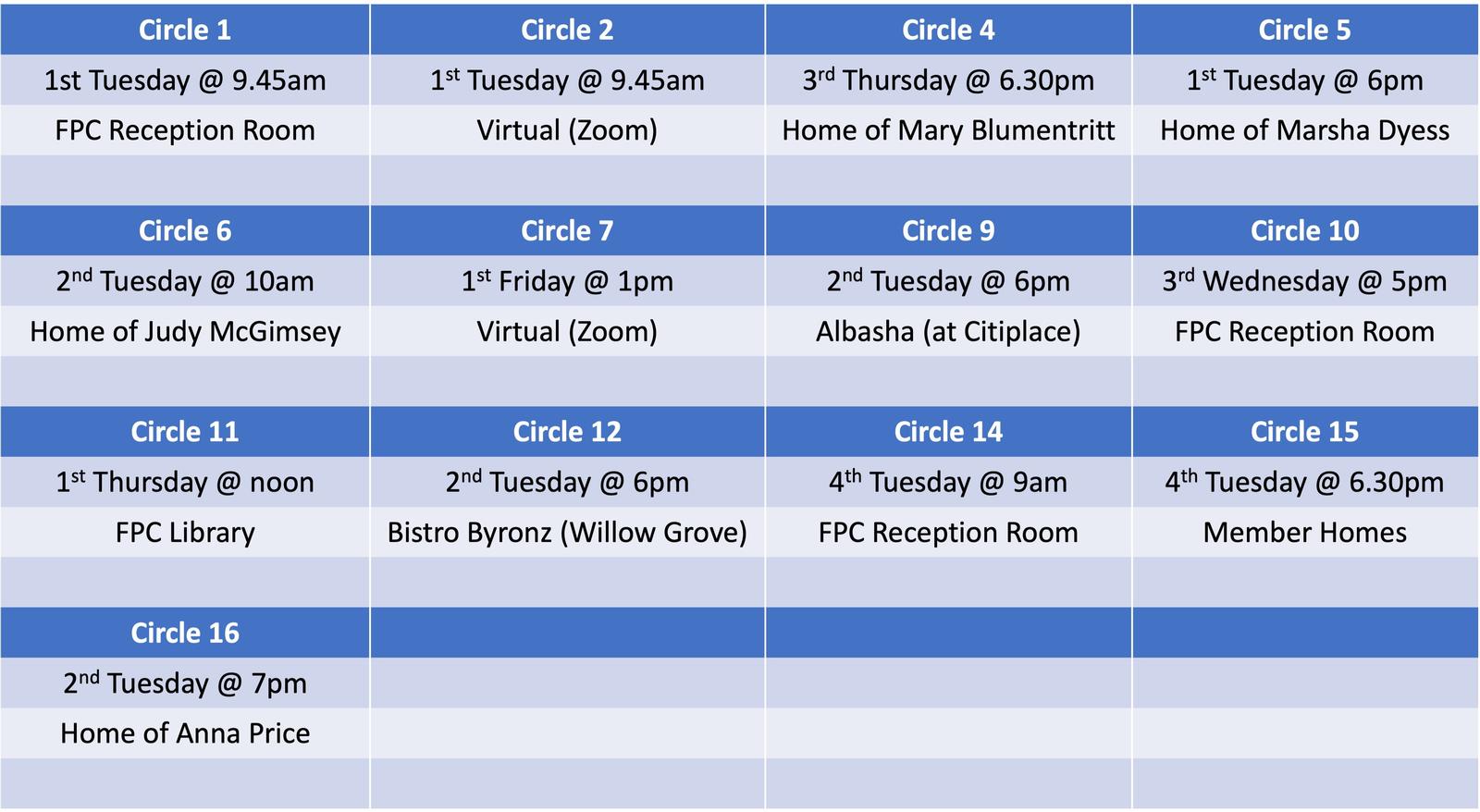 Events
Women's Ministry holds four events each year that are geared toward intergenerational fellowship, food and devotion. We have a Spring Picnic, Summer Luncheon, Fall Retreat and Advent Brunch.
Save the date! Our Fall Retreat: "Draw Near: The Priesthood of Christ" will be on Saturday, Oct 23 from 9 am-1 pm. More details to come!
Also, each month, Women's Ministry organizes fun socials for women in specific decades. These socials serve as casual, fun-filled opportunities to gather together outside of the church walls with other women in your age range.
If you are interested in serving on the committee for one of our annual events or hosting a social, please contact
Stacey Moore
or
Barbara Anne Eaton
.
Women's Ministry Advisory Council
The purpose of the Women's Ministry Advisory Council is to come alongside the Director of Women's Ministry, helping to serve our collective and individual needs. The council members partner with the director in the areas of fellowship, discipleship, prayer and Bible study.
The 2021-22 Council Partners are: Mitzi Barber, Paula Begnaud, Paige Davis, Sharon Dixon, Barbara Anne Eaton, Judy McGimsey, Stacey Moore, Katie Schellack, Suzie Thompson and Kaci Treadaway.
Women's Ministry Elders
Judy McGimsey
Suzie Thompson
Book Suggestions for Devotional Life
The All-Sufficient God
by Martyn Lloyd-Jones
Jesus Calling: Enjoying Peace in His Presence—Devotions for Every Day of the Year
by Sarah Young
Jesus Storybook Bible: Every Story Whispers His Name
by Sally Lloyd-Jones
Morning and Evening
by Charles Haddon Spurgeon
The Prodigal God: Recovering the Heart of the Christian Faith
by Tim Keller
The Return of the Prodigal Son
by Henri Nouwen
The Screwtape Letters
by C.S. Lewis
Valley of Vision: A Collection of Puritan Prayers and Devotions
by Arthur G. Bennett (Editor)
Book Suggestions on Marriage and Family, Finance and Sexuality
Desperate Marriages: Moving Toward Hope and Healing in Your Relationship
Hope for the Separated: Wounded Marriages Can Be Healed
by Gary Chapman
His Needs, Her Needs
by Willard F. Harley, Jr.
How to Manage Your Money: An In-Depth Bible Study On Personal Finances
by Larry Burkett
Our Greatest Gift: A Meditation on Dying and Caring
by Henri J.M. Nouwen
On the Threshold of Hope: Opening the Door to Healing for Survivors of Sexual Abuse
by Diane Mandt Langberg
Sacred Marriage: What if God Designed Marriage to Make Us Holy More Than to Make Us Happy?
by Gary Thomas
Sex and the Supremacy of Christ
by John Piper and Justin Taylor
The Silence of Adam: Becoming Men of Courage in a World of Chaos
by Larry Crabb
The Wounded Heart: Hope for Adult Victims of Childhood Sexual Abuse
by Dan B. Allender
Book Suggestions for Further Study
According to the Plan: The Unfolding Revelation of God in the Bible
by Graeme Goldsworthy
Breaking the Idols of Your Heart: How to Navigate the Temptations of Life
by Dan B. Allender and Tremper Longman III
The Cross
Studies in the Sermon on the Mount
by D.M. Lloyd Jones
Counterfeit Gods: The Empty Promises of Money, Sex, and Power, and the Only Hope that Matters
The Reason for God: Belief in an Age of Skepticism
by Tim Keller
The End of the Beginning: Revelation 21-22 and the Old Testament
by William J. Dumbrell
The Four Loves
Mere Christianity
by C.S. Lewis
From Eden to the New Jerusalem: An Introduction to Biblical Theology
by T. Desmond Alexander
The God Who is There: Finding Your Place in God's Story
by DA Carson
Gospel Women: Studies of the Named Women in the Gospels
Jesus and the Eyewitnesses: The Gospels as Eyewitness Testimony
Richard Bauckham
Growing Your Faith: How to Mature in Christ
by Jerry Bridges
Keeping the Sabbath Wholly
by Marva Dawn
The Shadow of Christ in the Law of Moses
by Vern S. Poythress
Simply Christian: Why Christianity Makes Sense
by N.T. Wright
Spiritual Theology: A Systematic Study of the Christian Life
by Simon Chan
Surprised by Grace: God's Relentless Pursuit of Rebels
by Tullian Tchividjian
The Unfolding Mystery: Discovering Christ in the Old Testament
by Edmund P. Clowney
When the Darkness Will Not Lift: Doing What we Can While We Wait for God
by John Piper