I have a friend who got to carry the Olympic torch for a few minutes along its journey from Greece to Salt Lake City. Thousands of people, specially selected, take part in this massive relay. The torch catches fire in Olympia, site of the first ancient games, and then passes through thousands of persons to the location of the next Olympics. Sometimes the flame gets passed to an underwater torch; sometimes it flies in four lanterns on a plane. But so far, it has never failed to make it.
That's a lot like the story we tell at Christmas. The early believers came to learn what they probably did not know during Jesus' ministry. How he was born far from home and cradled in a feeding trough. How angels sang before shepherds. How wise men followed a unique star. These accounts caught fire. They became precious to those who have given their lives to Jesus. So the reports have passed across oceans, over mountains, through deserts and hundreds of languages. The true story of a Savior's birth.
This Advent, as we prepare for Christmas, our theme is light. We hope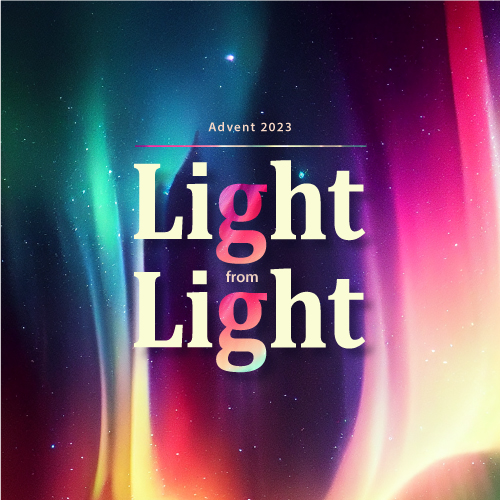 to catch fire from the birth of the Savior. The twist is that our flame does not begin on earth, not even from a place as cool as Mt. Olympus. This is a heavenly fire. Not from down here. A spiritual flame of life jumped the gap and caught fire in the virgin's womb. The Spirit enabled Mary to conceive Jesus, the truly human, truly divine redeemer.
When our hearts catch fire with that miracle, our whole lives light up. I love keeping this season with you and I hope you'll make it here every
week as we catch fire from Scriptures full of light and songs that light up the heavens with Christ's glory. You especially don't want to miss the Cantata on December 10, featuring our combined choirs, an orchestra and music written and arranged by our own Chris Phillips. We'll have three services on December 24 and I'll preach "All Along the Watchtower" at each.
Christmas Offering
Every year, in a very understated way, we make available a special offering to undergird two ministries beloved to our church. Every year, quietly, you shatter giving records and send the ministry leaders soaring into the new year with hope.
The Christian Outreach Center, led by Brian Sleeth, helps thousands of people through the year with basic needs for food, clothing, shelter and electricity. But more, the COC offers effective programs in job readiness, financial literacy and even re-entry from prison to a contributing life.
The Gardere Community Christian School, led by Lauren Darden, educates 150 students from preschool to fifth grade. This multi-ethnic Christian school consistently sees dramatic improvement in students' test scores, outpacing both public and charter schools in its area. Most importantly, Gardere effectively forms these little ones in the love and story of Jesus. Both ministries light many flames of hope, and it's a joy to support them.