Bailey and Me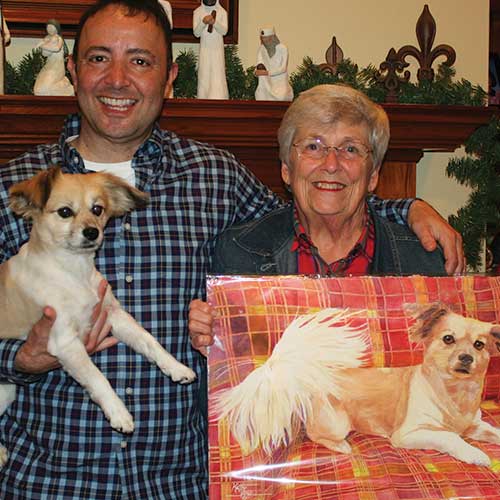 I will never forget that day. I joined several people from First Presbyterian Church in bringing healing and hope to yet another victim of the flood of 2016. Little did I know that, as a result, some healing and hope would be brought to me in an unusual way. My deceased mother, who raised twelve children in a devout Roman Catholic family in Rhode Island, always said, through thick and thin, that "The more you give, the more you get." I understand this truth to be not just circumstantial but spiritual. Yet, although there is the usual joy that comes from helping others there was another type of joy that I gained that day which I could never have foreseen. It came through a new friend—a canine one.
This beautiful little dog, now named Bailey, strolled into the home in which we were working in Millerville on August 24, 2016. As she had no collar, name tag or microchip, her photo was soon posted on various websites for lost pets of Livingston and East Baton Rouge parishes. Many people wanted her but nobody claimed her. The landlord of our temporary housing did not allow pets in his home. As a result, my younger daughter (also a "pet person") and I prayed that God would provide a home—or at least a foster parent—until the day came when we would have our own home, having moved here from Connecticut only one week before the flood. The answer to our prayer was a dear woman we met at a local retailer, Terry Harrington-Douglas, who became not only a foster parent to Bailey but a wonderful friend to us to this day. She kept Bailey for three months. Then Bailey moved in with us just after we moved into our new home.
Since then, Bailey and I have become a Registered Therapy Animal Team through LSU Vet School's Tiger H.A.T.S. program and are insured nationally through Pet Partners International. The evaluations, seven session course, and exams have been well worth the effort (although at one point I thought Bailey's "ordination" would take longer than my pastoral ordination!). We have since visited over 40 people, young and old, rich and poor, black and white, hospitalized and healing or in hospice care and dying. Over and over again, Bailey has brought comfort, healing and hope to those we serve together. There is a reason why dog spelled backwards is what it is—they love us unconditionally.
As a full-time Associate Pastor for Pastoral Care and Prayer, I am not only thankful but also inspired by how God often uses the ministry of "presence" to bring others divine peace—no words (or barks) necessary!
Photo: Painter Kathy Stone with Jim Solomon and Bailey