Lent - Day 22
JESUS' ARREST AND TRIAL
Week 4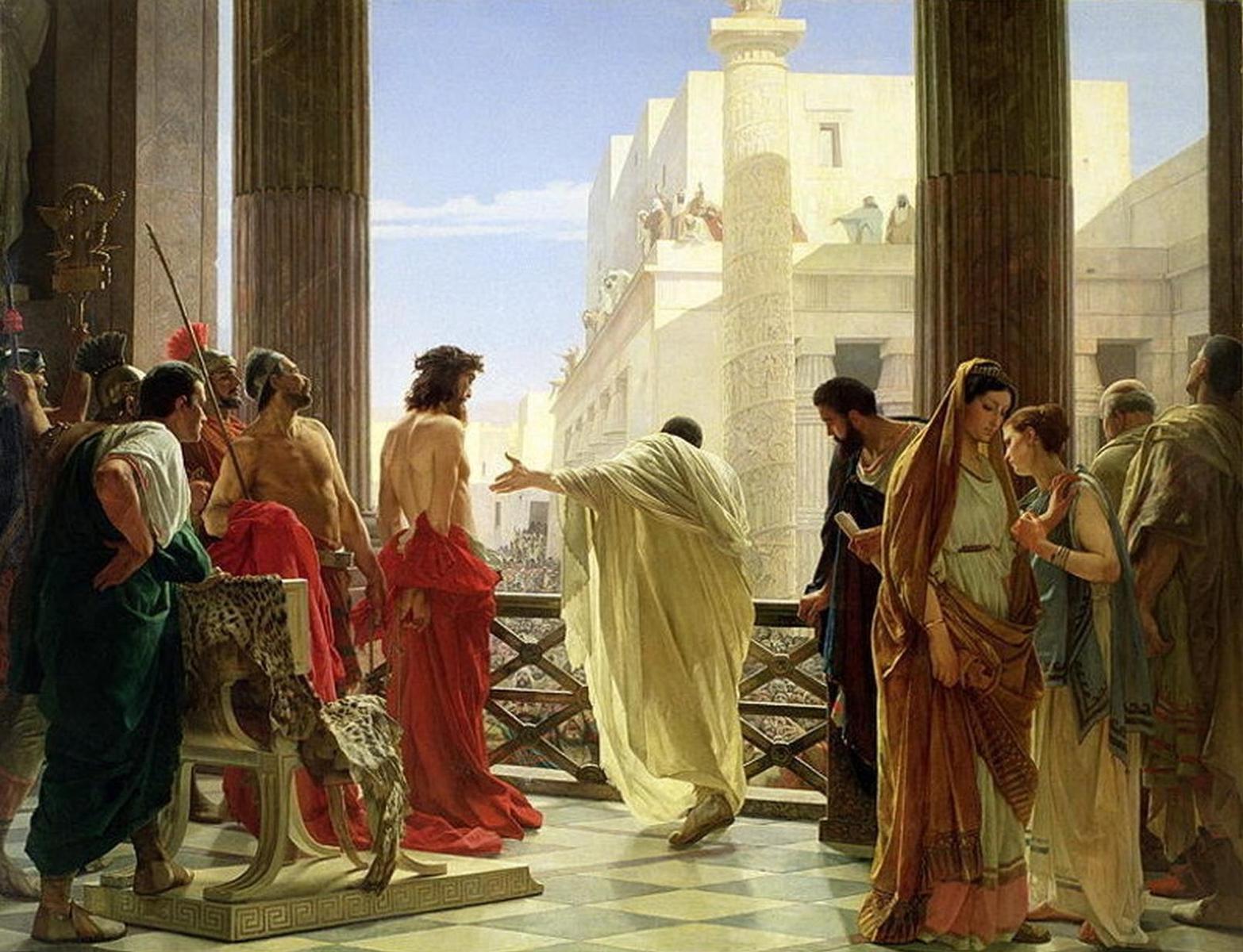 Antonio Ciseri. Ecce Homo (Behold the Man). 1870.
Thursday night into Friday morning Passion Week darkened into the sham trial and conviction of Jesus as a rebel. The naked power of evil worked through those in charge, from the high priest of Israel to the Roman governor. The crowd of ordinary people exhibited the worst of human nature, intoxicated by the prospect of blood and the condemnation of fitting a scapegoat. These were our worst hours.
As his accusers grew less rational and more frenzied, Jesus deepened in his calm. He seemed at peace. This only fueled their fury. They, we, knew he was innocent and decided not to care.
In this vivid painting by Antonio Ciseri (1871), we see Pilate presenting Jesus to the crowd. Crowned with thorns, arms tied behind his back, dwarfed by the mighty building of Pilate's palace, Jesus appeared thoroughly subdued. "Behold the man!" Pilate cried out. And to the evil one and all those under his sway, this seemed like the triumph of fully defacing the image of God in humanity. The raw God-hatred deep in our hearts did this to Jesus.
Only Jesus still believed this was not the end of the story.
Day 22 Sunday
JESUS AT HIS ARREST

That which we have seen and heard we proclaim also to you, so that you too may have fellowship with us; and indeed our fellowship is with the Father and with his Son Jesus Christ (1 John 1: 3).

FOLLOWING THE SCRIPT
John 18: 1-11
When Jesus had spoken these words, he went out with his disciples across the brook Kidron, where there was a garden, which he and his disciples entered. Now Judas, who betrayed him, also knew the place, for Jesus often met there with his disciples. So Judas, having procured a band of soldiers and some officers from the chief priests and the Pharisees, went there with lanterns and torches and weapons. Then Jesus, knowing all that would happen to him, came forward and said to them, "Whom do you seek?" They answered him, "Jesus of Nazareth." Jesus said to them, "I am he." Judas, who betrayed him, was standing with them. When Jesus said to them, "I am he," they drew back and fell to the ground. So he asked them again, "Whom do you seek?" And they said, "Jesus of Nazareth." Jesus answered, "I told you that I am he. So, if you seek me, let these men go." This was to fulfill the word that he had spoken: "Of those whom you gave me I have lost not one." Then Simon Peter, having a sword, drew it and struck the high priest's servant and cut off his right ear. (The servant's name was Malchus.) So Jesus said to Peter, "Put your sword into its sheath; shall I not drink the cup that the Father has given me?"
CAST NOTES
Today we look from a different angle at the scene of Judas leading the soldiers to arrest Jesus. We note immediately the calm of Jesus. Into the garden peace of a night on the Mount of Olives came the blare of torches, the clatter of weapons and the tramping of rough feet. Jesus did not run nor shrink back. He came forward and asked an obvious question. He made them say his name, "Jesus of Nazareth." John records that Jesus replied with two simple Greek words: ego eimi, I am. Throughout John's Gospel, Jesus had spoken of himself in terms such as "I am the light of the world. I am the resurrection and the life. I am the good shepherd." Now he speaks an unadorned, simple "I am." We cannot help but recall the time when the LORD revealed his name to Moses as "I AM" (Exod. 3: 14). This is raw revelation. The eternal Son of God stood before them and declared his identity.
Teaching on this passage, my beloved Dr. Kelly quoted, "A beam of Uncreated Light/Pierced the dark Judean night." Hearing that simple statement, the band of armed, trained soldiers fell to the ground. No one can stand in the presence of holy God unveiled. This reveal was but for a moment, but we realize with crystal clarity, that no army was overpowering Jesus. No earthly powers controlled these events. He went voluntarily, submitting himself to the plan that the Father, Son and Holy Spirit had made before the world began.
What do you think made the soldiers fall down? How does Peter's action contrast with Jesus' resolve? What made Jesus so calm?
PRAYING IN CHARACTER
Today, we will revisit the prayer Jesus made so shortly before his arrest, the moments with his Father in which he drew on the strength needed to face the hour. I invite you to read this prayer aloud several times. As you read, add your Amen, your "Yes" of thanks and wonder to each line.
Father, the hour has come. Amen.
Glorify your Son that the Son may glorify you. Amen.
You have given him authority over all flesh. Amen.
To give eternal life to all whom you have given him. Amen.
And this is eternal life, that they may know you, Amen.
The only true God, Amen.
And Jesus Christ whom you have sent. Amen.
I glorified you on earth, Amen.
Having accomplished the work that you gave me to do. Amen.
And now, Father, glorify me in your own presence, Amen.
With the glory that I had with you before the world existed. Amen.
(John 17: 1-5)
These are written so that you may believe that Jesus is the Christ, the Son of God, and that by believing you may have life in his name (John 20: 31).
ENCORE
Today's passage brings up the concept of kenosis, which means emptying. In Philippians 2: 7, Paul wrote that though Jesus was by very nature the Son of God, "he emptied himself, by taking the form of a servant, being born in the likeness of men." Jesus laid aside the prerogatives of his divinity. He accepted the limitations of our human nature. He was God who came among us as one of us, in order to save us.
In today's episode, Jesus shows that he is quite aware of who he has always, eternally been: the great I AM. Then he deliberately humbles himself by letting them arrest him. The arrest, trial and crucifixion happened solely because Jesus gave himself over. He emptied himself. Kenosis.
Paul would continue, "And being found in human form, he humbled himself by becoming obedient to the point of death, even death on a cross" (Phil. 2: 8).
Charles Wesley's magnificent hymn "And Can It Be?" expressed why kenosis matters so much to us.
He left his Father's throne above,
So free, so infinite his grace!
Emptied himself of all but love,
And bled for Adam's helpless race.
Tis mercy all, immense and free,
For O my God, it found out me.
Amazing love! How can it be
That thou my God shouldst die for me!