City Ministry Immediate Needs
During the pandemic, our primary City Ministry partners have been extremely busy. I would like to give you a brief update on each.
Christian Outreach Center is in need of large quantities of supplies for men, women and children of socks, underwear, hygiene products (soap, toothpaste, razors, deodorants, shaving cream, toothbrushes and feminine hygiene products) and diapers for ages infant to pull-ups. Please drop off at the church on Tuesdays or Thursdays near the 8th Street kitchen door from 10 am to 2 pm. We need volunteers immediately to help sort all these items.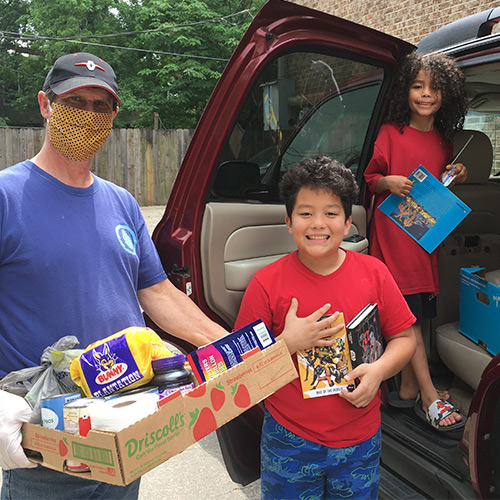 Gardere Community Christian School
is very grateful for the food that has been donated the past five weeks to make large boxes of non-perishable items for families. To date, we have delivered 150 boxes to the families of GCCS from March 23 to April 30. A big thank you to Nancy Zito, Julia Keblani, Lisa Head, Hans Othmer, Annette Lamond and Chelsea and Luke Haskew for their help in organizing this food drive! Please continue bringing non-perishable food items to the 8th Street kitchen door Tuesdays or Thursdays from 10 am to 2 pm through May 31. Items needed: red beans, long grain rice, peanut butter, grape jelly, green beans, peas, corn, black beans, baked beans, mixed vegetables, mac and cheese, thin spaghetti, spaghetti sauce, chicken noodle soup, canned tuna, cereal (corn flakes, frosted flakes, rice crisps), mashed potato packs, grits packs, applesauce, chocolate drink, paper towels and toilet tissue.
Open Air Ministry under the leadership of Pastor Joseph Moore has continued to provide bags of food for the homeless and poor of our community every Sunday from 12 noon to 1.30 pm. First Presbyterian has been to their ministry site behind St. Vincent de Paul for the past four Sundays and has delivered 50 boxes of food. As of April 30, First Presbyterian Church had provided boxes of food for a total of 200 families.
Manners of the Heart is doing well, and they are extraordinarily busy as they minister to East Baton Rouge Parish Schools: Cooking with Wilbur on Fridays and Storytime with Jill on Mondays. Jill is recording IHeart messages every week which air each day.
Caring to Love is also doing extraordinary ministry during the pandemic. We praise God for Dorothy Wallis and all she does for women seeking counsel on what to do with their pregnancy.
Abounding Love Ministries is doing well as they have received help with the Payroll Protection Program. We praise God for our sister church and all that God is doing through them. Albert and Adriane White, John Norwood and other church members pray at the state capital for our elected officials each Saturday morning during the pandemic.