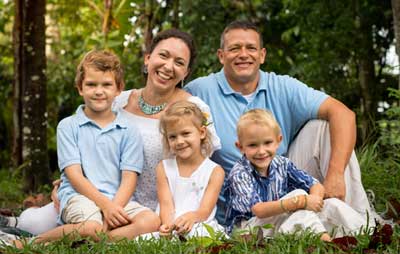 Heather and Brian Marx are missionaries with Mission Aviation Fellowship serving in Papua, Indonesia, through Aviation and Hospitality. Jim Elliot's quote hangs on their wall, "He is no fool who gives what he cannot keep to gain what he cannot lose" (a paraphrase from Mark 8: 35).
As the Nabire Base Manager, Brian oversees a team of fifteen Indonesian employees and two expatriate pilot-mechanic families. He pilots backcountry aircraft in support of 30 airstrips in the jungles and mountains of this rugged island. Key ministries include air support for church planting, Bible translation and literacy, church growth, education and medicine.
Heather is an amazing ministry partner. In addition to running the home and schooling their three children, Heather has transformed a simple duplex into a beachside retreat. She hosts a regular stream of out-of-town missionaries and pilots as they pass through on "Kingdom" business. Missionaries are so encouraged by her hospitality that even the Dutch, Korean and Canadian missionaries make plans around American Thanksgiving! In her spare time, she continues her chalk art ministry, using her artistic ability to build up local churches in Nabire.