A Comical Look at the Biblical Jacob
Posted: 02/27/2018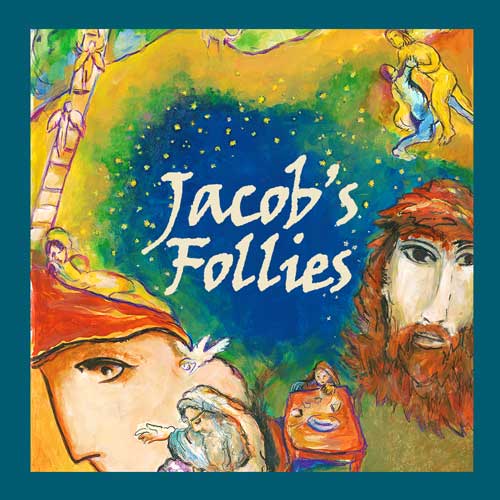 "Jacob's Follies" presents the Biblical accounting of Jacob in a fun and quirky light. The show begins with an older Jacob pondering his past when, suddenly, a chorus erupts behind him in praise of the great "Prince of God." Unexpectedly, the hero is called out for what he really is, and we are transported back in time to the beginning of Jacob's story. Jacob, which means "deceiver," is the second born son of Isaac. Though Jacob is smart and quick on his feet, he has been overlooked by his father in favor of his older brother, Esau. Desperate to prove his worth, Jacob, along with his mother Rebekah and others, steal Esau's blessing and birthright. Esau is enraged and, fearful for his life, Jacob is forced to run away from home.
In Act 2 of the musical, Jacob runs into the colorful Bedouin King and his motley crew. The King threatens Jacob's life. Jacob narrowly escapes. However, in the exchange, he loses all of his possessions. Despondent, Jacob dreams of an encounter with God. He receives God's peaceful presence. In the morning, with nowhere else to go, Jacob seeks shelter from his Uncle Laban and falls in love with the beautiful Rachael. Again, desperate to prove his worth and to succeed, he makes a deal with Laban to work seven years in exchange for Rachael as his bride. Finally his wedding day arrives. Jacob discovers after the ceremony that he is not married to Rachael, but her weird sister Leah. Angry and confused that he has been fooled, Jacob rages at God.
Years pass and having been richly blessed, Jacob decides to leave his Uncle Laban and return home. The way home is suddenly full of peril with the arrival of Esau. Jacob's tent is once again in turmoil. Jacob again cries out and wrestles with God. God reaches down, touches his heart, and leaves him face to face with his older brother, Esau. Facing his brother, Jacob accepts his fate and is ready to die. Surprisingly, Esau forgives Jacob. The show closes as Jacob realizes how loved he truly is and that he is the apple of God's eye.
"Jacob's Follies" is an original musical play by Terry Byars, directed by Terry, and presented by First Presbyterian Church on March 16 and 17 at 7 pm, and March 18 at 3 pm.
Invite your friends and family to this very comical look at the Biblical characters of Genesis 25, plus some humorous "invented" characters they meet along their journey! Free admission and great entertainment for the entire family!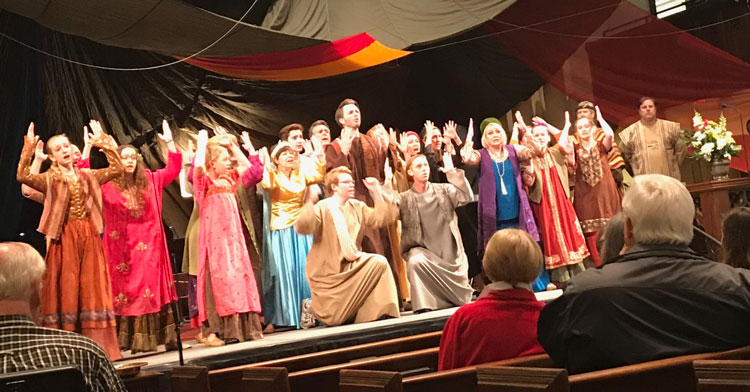 Free Admission and Appropriate for All Ages.
Performance Dates and Times:
Friday, March 16 at 7 pm
Saturday, March 17 at 7 pm
Sunday, March 18 at 3 pm
Back to News