DISCOVERING WHAT'S "IN CHRIST"


Colossians 1: 26-27
. . . the mystery hidden for ages and generations but now revealed to his saints. To them God chose to make known how great among the Gentiles are the riches of the glory of this mystery, which is Christ in you, the hope of glory.
Romans 8: 9-10a
You, however, are not in the flesh but in the Spirit, if in fact the Spirit of God dwells in you. Anyone who does not have the Spirit of Christ does not belong to him. But if Christ is in you . . .
2 Corinthians 13: 5
Examine yourselves to see whether you are in the faith. Test yourselves. Or do you not realize this about yourselves, that Jesus Christ is in you?
Consider
Yesterday we pondered the foundational truth that God has planted us in Jesus Christ. By God's will and power alone, we are placed into Jesus and all his benefits. Our little lives get put into his great life. Our little stories get taken into his one, true, life-giving story.
Today, we ponder the corollary: Christ is in us! It's crucial that we consider our being in Christ first. That's the more dominant theme in Scripture. And, we have to avoid the tendency to think Christianity is about having a Jesus small enough to fit into my heart. Then he would be nothing but a little spiritual accent to help me live the life I dream for myself. That's not the Biblical view!
The point is being taken into Christ. But Christ has established a new relationship between God and his people. We dwell in him. But he also dwells in us. We are united. We share life. He is in us and we are in him.
Today we see that Christ dwells in the center of us, our hearts, by the Holy Spirit.
God is Father, Son and Holy Spirit. This mystery is as baffling as a mathematical equation. But it's as glorious as an experienced reality.
In the second century, Irenaeus wrote that to save us, the Father stretched forth his two "hands." He sent the Son to accomplish redemption. He sent the Spirit to put us into the Son and all he accomplished. The Spirit joins us to Jesus as he dwells within us. Once more, who can understand such mystical reality? Yet we can experience Christ in our hearts. In worshiping, in praying, in serving and obeying. We feel Christ within. We behold Christ accomplishing his work through us. We see answered prayer. We realize the change in our behaviors that he creates.
TREASURES FROM THE STOREHOUSE OF CHRISTIAN WISDOM
Now Paul's mysticism grows lyrical with precisely this great discovery. "Christ in me" means something quite different from the weight of an impossible ideal, something far more glorious than the oppression of a pattern for ever beyond all imitation. "Christ in me" means Christ bearing me along from within, Christ the motive-power that carries me on, Christ giving my whole life a wonderful poise and lift, and turning every burden into wings. All this is in it when the apostle speaks of "Christ in you, the hope of glory." Compared with this, the religion which bases everything on example is pitifully rudimentary. This, and this alone, is the true Christian religion. Call it mysticism or not—the name matters little: the thing, the experience, matters everything. To be "in Christ," to have Christ within, to realise your creed not as something you have to bear but as something by which you are borne, this is Christianity. It is more: it is release and liberty, life with an endless song at its heart. It means feeling within you, as long as life here lasts, the carrying power of Love Almighty; and underneath you, when you come to die, the touch of everlasting arms (Stewart, A Man in Christ, p. 93).
Consider
Stewart leads us to see how crucial Christ is within us as a person shaping and empowering us. He is not just "out there" as an impossible ideal to follow. Meditate a while on Stewart's idea that "'Christ in me' means Christ bearing me along from within, Christ the motive power that carries me on, Christ giving my whole life a wonderful poise and lift, and turning every burden into wings."
When, specifically, have you experienced this to be true? How can you draw on this Source today?
Into what anticipated situations do you especially want to invite Christ within you to guide and empower you?
PRESSING INTO CHRIST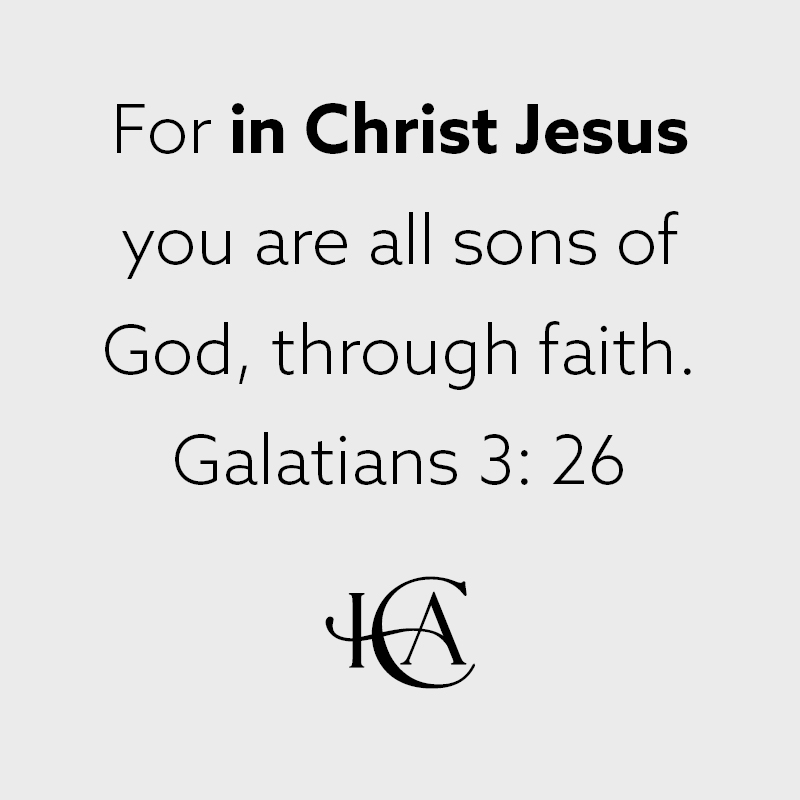 Christ in me, the hope of glory!
Blessed Holy Spirit, I marvel that you would reside in me.
How can you stand to lodge near my
Selfish thoughts, my resentments, my lusts, my greeds?
Yet you bring Jesus the redeemer to me!
You work his life in me from the inside out.
What a big work you have to do!
And how patiently, gently you undertake it.
This day I invite your guidance,
Your shaping, your desire, your direction
To transform me more and more.
Oh Christ in me, great mystery of our union,
Flow through me that I might do your will
And rejoice at day's end to give you thanks.