October 14: Night Testimony & Fellowship
Posted: 09/26/2022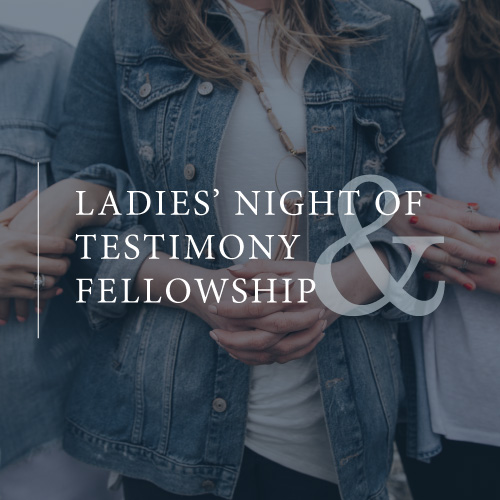 "Come and hear… and I will tell what he has done for my soul" (Psalm 66: 16).
A personal testimony is one of the most influential tools the Holy Spirit uses to point people toward Christ. It brings alive the goodness and faithfulness of God, not because WE are so great, but because HE is so great. And what's even more amazing . . . your testimony is authentically and uniquely YOURS.
Join Women's Ministry for our Night of Testimony & Fellowship, as we hear what the Lord has done in the lives of our beloved sisters-in-Christ: Jess Concienne, Sharon Field, Chelsea Haskew, Lauren Honea, Tracy Martinez and Claire Zak.
Our Night of Testimony & Fellowship will be Friday, October 14 from 6 to 9 pm at the home of Amber McConnell (4352 Woodside Drive). The first hour of the evening will be fellowship and food prepared by Zea's. The next hour will be packed with testimonies by our ladies. Then we'll round out the night enjoying sweets and champagne.The cost is $10 per person. Please register below.
Friday, October 14, 6-9 pm
At the home of Amber McConnell
$10 per person
6-7 pm Fellowship & Food (prepared by Zea's)
7-8 pm The Power of a Testimony
8-9 pm Sweets & Champagne
Back to News