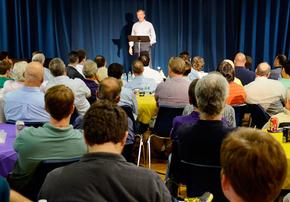 The men of First Presbyterian enjoy a variety of ministry and service together. We meet in various groups throughout the year, eat together, fellowship in one anothers' homes, travel, study God's Word and serve our neighbors. It is our desire to equip men to live as followers of Christ in the home, workplace and community.
We seek to have every man actively engaged in the transformation of the inmost dimension of their being, the heart, in such a way that its natural expression comes to be the deeds of Christ done in the power of Christ so that they may fulfill their calling in the church, the home and the world.
We believe that this transformative process most effectively takes place in the context of the church through daily devotion, weekly discipleship and weekly corporate worship.
For more information on men's ministry, contact Darin Travis.
MEN'S SKEET SHOOT AND GUMBO COOKOFF
Come join the men of FPC on Saturday, April 17 from 10 am to 2 pm for an incredible day of fellowship, food and fun at our second annual FPC Skeet Shoot and Cooking Competition (7016 Hwy. 419, Batchelor, LA). We'll be on a beautiful 6,000 acre working sugar cane plantation that's just an hour away from downtown Baton Rouge. We'll enjoy this amazing property and have even more shooting stations than last year. More stations mean smaller teams which translates into more opportunities to shoot! The shooting areas will all overlook a beautiful pecan orchard.
Prizes will be awarded for both shooting abilities as well as gumbo cooking abilities. So bring your favorite gumbo, whether it's a sausage gumbo, seafood or any other variety.
Don't forget your shotgun, hearing/eye protection and hearts eager to have a good time and connect with other men. The cost is $25 which covers all you need: ammo (12-gauge provided. If you are bringing any other guage of gun, you will need to provide your own ammunition), clays, plus sides/desserts/drinks/etc. for the meal. Teams will be organized such that experienced shooters as well as first-timers will be able to have fun and enjoy.
Last year we enjoyed your chili. Now let's see what you can do with a gumbo! Bring your gumbo already cooked in a crock-pot for our illustrious judges to name our winner.
To make this event a success, we need help. Please let us know if you are available to serve. We need safety marshals, set-up/tear-down crew and hospitality teams. We also need to borrow more skeet throwers. If you have one we can use, whether automatic or manual, please let me know.
Come for the chance to shoot skeet, come to savor a good bowl of gumbo, or simply come to enjoy the company of FPC men who love Jesus.This is once again going to be an event you won't want to miss!
All registered participants will receive a confirmation email from Darin Travis on April 16. Our weather can be unpredictable. The email will let you know if the shoot is still on.
Those who previously registered for the cancelled February skeet shoot will be contacted directly by Darin. You do not need to register again.