On September 30, First Presbyterian will begin work on its seventh (!) Habitat for Humanity home. This is a major commitment for our church, and we hope you will join us in this important City Ministry project!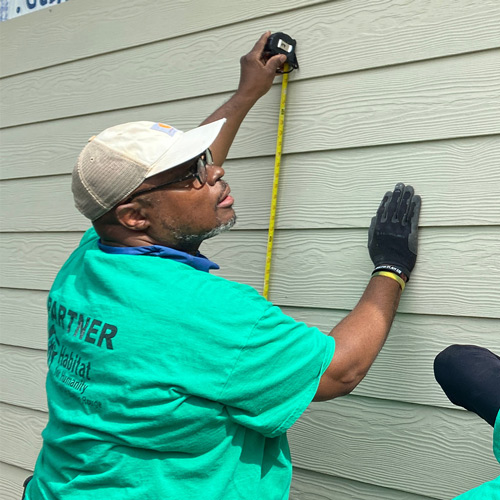 This year's Habitat Build homeowner is Terrence Carter. Terrence is a father of 2 boys. His first is 23 years old and plays football for Southern University. His second is 16 and plays high school football.
Up until his stroke in 2016, Terrence spent a lot of his years traveling around the country driving 18-wheelers. Since then, he hasn't had a place to call his own. Terrence never thought he'd make it to this point after his stroke. There was a period of time where it was hard to get out of bed or go to therapy. Helping construct his own home has been difficult but rewarding. He is excited to apply the skills he's learned on site to the maintenance of his own his home. He particularly enjoys painting and caulking.
Terrence is so thankful to First Presbyterian Church for making this dream a reality and cannot wait to work beside everyone on the construction site building his very own home.
When? Thursday, September 30 through Saturday, October 23. No work on Sundays and Mondays. We will work from approximately 8 am to 3.30 pm. The house dedication is set for October 23 at 2 pm.
Who can help?
YOU! Although building skills are welcome, no experience is necessary! The Habitat staff is skilled and extremely patient in training volunteers for tasks. Youth must be 16 or older to work on site. Alternatively, you can be a "hospitality" volunteer on site to serve beverages and food or you can provide snacks or meals. Email
Meagan Greene
if you have questions about food.
How can I sign up? Use the links below to volunteer to work or bring food.