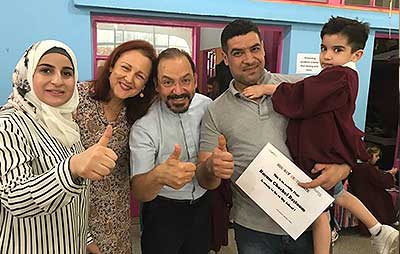 One migrant domestic worker's desperate plea for help moved Robert Hamd to start The Philemon Project's GROW Center — an Early Childhood Development Center and Adult Mentoring Program in Beirut, Lebanon. Since 2012, the GROW Center has impacted children of migrant workers, Syrian refugees and underserved Lebanese and their parent(s) with the love of Christ. The GROW Center's staff boldly demonstrates the love of Christ impacting the children and their parents. The Project is making a tangible impact and the vision is to replicate to another multi-ethnic area of Beirut.
We serve an average of 70 children per month, providing the best early childhood development and also adult mentoring for 10-15 parent(s) per weekly adult mentoring session, making an impact in the lives of the people we serve. We were very grateful to incorporate a speech therapist into our overall program, strengthening our early development outcomes. Language is a primary focus of our work. Having a speech therapist enables us to keep abreast of the latest professional practices.
The GROW Center employs local Christian women who boldly exhibit the love of Christ. Our teachers use Bible stories, Christian songs and prayer time with the children to expose them to Christ and his love. While students develop cognitively, socially and spiritually, parents also receive positive mentoring from our social worker and our staff. Additionally, both child and parents receive quality health care and health awareness training from our nurse.