International Friendship Partners Socials
Posted: 05/24/2023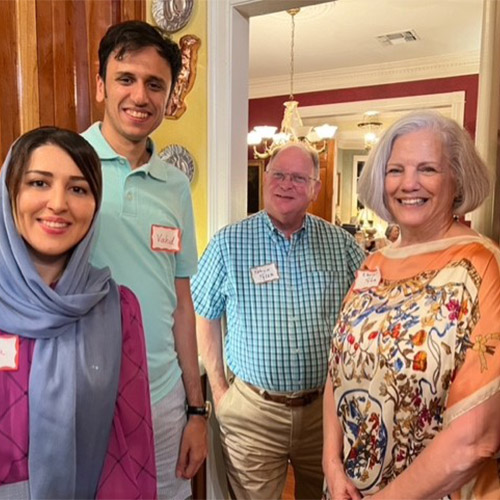 The International Friendship Partners (IFP) team welcomes and loves internationals in Baton Rouge. Through hospitality, we build bridges of friendship, trust and mutual respect while sharing the love of Christ. All are invited to join us for our monthly socials. We usually meet the fourth Friday of the month. Please contact LeeAnn Kozan for further information.
IFP continues to host monthly gatherings on the fourth Friday of each month. On January 27, it held a successful "Bonfire in the Country" themed gathering at the home of Valerie and Phil Gastinel. Adults and children from Nicaragua, Brazil, Iran, China, Japan, and Afghanistan mingled with IFP's American partners while sampling chili, making s'mores, sharing stories, and enjoying not one, but two bonfires. David Kozan announced a high-level English book study (Mere Christianity) starting in early February and Valerie closed the evening with an impromptu testimony of her time in the Columbian mountains. Eyes, ears, and hearts were opened!
Please join IFP for our upcoming gatherings:
Friday, May 26 from 6 to 8 pm at the home of Garland and Billy Wilson
Friday, June 23 from 6 to 8 pm at LeeAnn and David Kozan's home (3565 Cole Dr.)
Friday, July 28, 6 to 8 pm. Location to be announced.
You may also visit our
sign up form
if you already know enough to commit. All leadership team members know the scoop so if you know them and see them around church or in a small group, feel free to get information from them.
This initiative is a great way to welcome the international community to Baton Rouge and can be a good fit if you're single, a couple, or a family with children.
We're celebrating almost ten years of loving those God has brought from around the world to our city. We'd love to have you join us!
Back to News