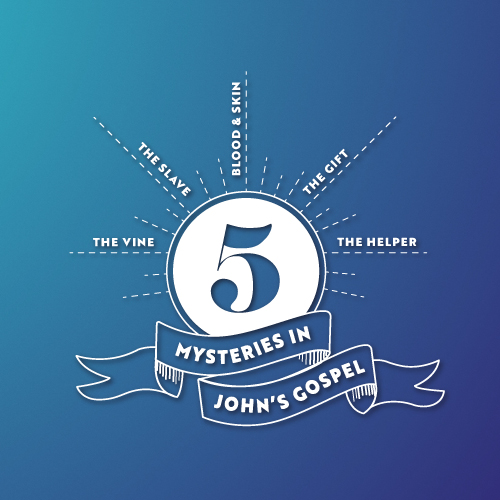 John's Gospel gives us titles for Jesus found nowhere else. These simple words contain ocean depths of meaning. They are mysteries made known. Secrets that are open. Easily understood on one level, intriguing for a lifetime of exploration at deeper levels. There's great stuff in John that we can't get to in the Sunday messages.
So we're hosting a stay-treat; time set apart for focused study, worship and fellowship where you still get to sleep in your own bed! Friday night includes delicious dinner, presentations and wonderful dessert. Saturday morning includes a light breakfast and three exciting presentations. There's even a kids track!
The five mysteries include The Word, The Footwasher, The Vine, The Helper and the Triune Gift.
Cost to Attend:
Through January 24: $10/person or $20/family
After January 24: $20/person or $30/family
Stay-Treat Schedule
FRIDAY SCHEDULE
5.30 pm Dinner (Gym)
6.30 pm Worship (Sanctuary)
6.45 pm "The Mystery of the Word Made Flesh," John 1: 1-18
7.30 pm "The Mystery of the God as Slave," John 13
8.15 pm Dessert (Gym)
SATURDAY
8.15 am Breakfast (Reception Room)
8.45 am Worship (Sanctuary)
9 am "The Mystery of the Vine," John 15
10 am "The Mystery of the Helper," John 14: 6
11 am "The Mystery of the Divine Love Gift," John 14-16
Childcare will be available for children through 5th grade. Children birth through Kindergarten will be in the So Loved nursery classrooms, while Kingdom Kids elementary children will be in the Sanctuary basement classrooms and gym. Both groups will engage in lessons, activities and crafts based on the mysteries in John.
Children's Track:
FRIDAY
5.30 pm Dinner (Classrooms)
Nursery, Kingdom Kids and middle school kids will have dinner in their classrooms.
Teaching: Jesus the Good Shepherd, John 10
8:15 Desert (Gym)
Children will join parents in the Gym for dessert
SATURDAY
8:15 Breakfast (Reception Room)
Teachings: The Raising of Lazarus, John 11; The Footwasher, John 13; Nicodemus, John 3