We Caught the Vision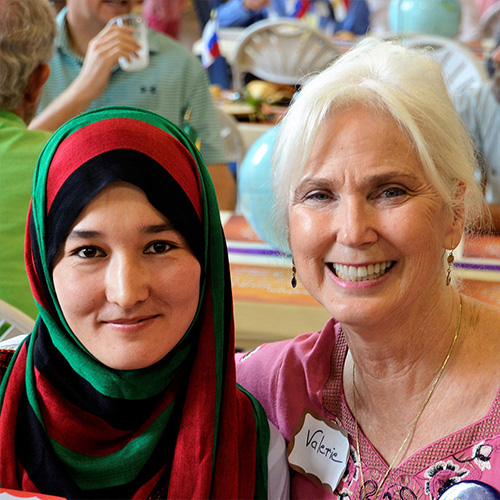 Folks caught the vision at the 2017 Global Missions Conference! After hearing from two phenomenal speakers, over forty people expressed interest in one of three mission opportunities —the Perspectives Course, hosting internationals through International Friendship Partners or joining a short-term mission trip to Romania with Smiles Foundation.
Dr. Greg Livingstone kicked off the weekend with over 200 people in attendance on Saturday morning. For over 50 years, Greg has been a pioneer in missions to the unreached people of the Middle East with Operation Mobilization, Frontiers and now with the EPC's World Outreach. Your Presbytery (EPC Gulf South) is focusing on Syria with Nour and Rebecca (Lunceford) Botros and their team ready to mobilize to that country once the war ends!
Unreached people groups, of which there are 350 in the US alone, was the focus of the video Greg shared called, "What Is a UPG?" (Watch it on gogfm.org.) Understanding the meaning behind statistics which help missionaries gauge their effectiveness was a perfect tie-in to one of our global missions opportunities: International Friendship Partners. IFP currently has 14 international LSU students looking for friendship partners.
International friends from Iran, Afghanistan, China, Bangladesh, Nepal, Kenya, Egypt, Taiwan, Japan and Ghana joined First Presbyterian members by sharing their cuisine at Saturday's International Friendship & Food Festival. Americans and internationals shared tables giving everyone an opportunity to engage with someone from another country. Mac Magruder graciously introduced our guests. It was a joy to see the pride in the faces of our international friends as they gave their names, told where they were from and thanked us for hosting them.
Steve Douglass, President of Campus Crusade for Christ (Cru), was Sunday morning's guest preacher. Darin Travis had the honor of introducing his former boss and welcoming him to the pulpit. In Steve's 50 years with Cru he has never seen God more at work increasing prayer movements across the globe, reaching "unengaged, unreached people groups" where there is no church and no one is trying to bring the gospel, improving Bible translation, making The Jesus Film available online in 1,561 languages and church planting. The big takeaway is that the task of the Great Commission can be finished in our lifetime! As in the story of the woman at the well, our challenge is to "lift up our eyes" (John 4: 35) and get involved in the harvest. It is now.
Greg Livingstone and Gerrit Dawson wrapped up the conference Sunday evening with a time of prayer for global missions reminding us of Jesus' words in Matthew 9: 35-38. "The harvest is plentiful, but the laborers are few; therefore pray earnestly to the Lord of the harvest to send out laborers into his harvest."
Do you want to catch the vision? Do you want to find your place in the story? Find out more about participating in a global missions opportunity by visiting fpcbr.org/missionsopportunities.com. You may also text missions to 38470 and see what happens!
Cody Watson, a mission mobilizer with Presbyterian Frontier Fellowship, has been supported by First Presbyterian for many years. Cody attended our missions conference, and shared his thoughts and impressions.