Masquerading Worship
Feeling a bit like Darth Vader in my mask, I walked through the Sanctuary greeting a number of families who had come to the confirmation service. I found comfort that we were all doing the same. From a safe distance, I said, "It's like a masquerade ball. Or a Halloween party. You feel ridiculous getting ready. But once you see that everyone else has on a costume, it's ok." Indeed, it was ok. No, I'm not a big fan of breathing back my own breath. But I get it. We're helping each other. We're making the best of the situation given to us. And I'm awfully proud that you are making the effort to regather our congregation in the Sanctuary while following the safest recommendations in a spirit of adventure. Of course you are!
Now I don't mind telling you, leadership in an unchartered crisis is exhausting! Every week, sometimes every other day, we have to pivot. We have to adapt. To plot a new course knowing it might change overnight. I've been so impressed with the flexibility and innovation and sheer hard work of our on-the-ground staff. Our team bowls me over with the way they've communicated and created worship and ministry for all of us in these strange days.
Lately, I've found a place to be peaceful. I think our elders have found that same place. We're sheltering in the leadership that is above us. We're thankful for and praying for our freely elected government. As long as what the state asks doesn't compel us to compromise the gospel or doesn't egregiously and specifically target people of faith, we are glad to follow. To be part of Team Louisiana.
This gives us two strong directions. On the one hand, we want to do everything that is permitted to us to do. Our business is gathered worship. We exist to proclaim the gospel in community for the community. So when we can open at 25%, we do. We energetically embrace what we may do, offering the best we can give to the most who can come. On the other hand, we accept what is prescribed for our safety. If sanitizing, distancing and masking is what is asked, we're happy to do it. It's not fun. But it's what is called for. And that makes me peaceful.
I don't want to try to think I know better. Nor do I want to live in fear. I want to live boldly within the guidance of what is both permitted and safe. Down this road, lies peace, restoration and love for our community. Just think, no one has ever done this before! We'll always remember this time. I will always remember your overwhelming love for your church and commitment to our ministry in the heart of Baton Rouge. These days, it's easy as pie to say I love being your pastor!
Gratitude for Steve Rushing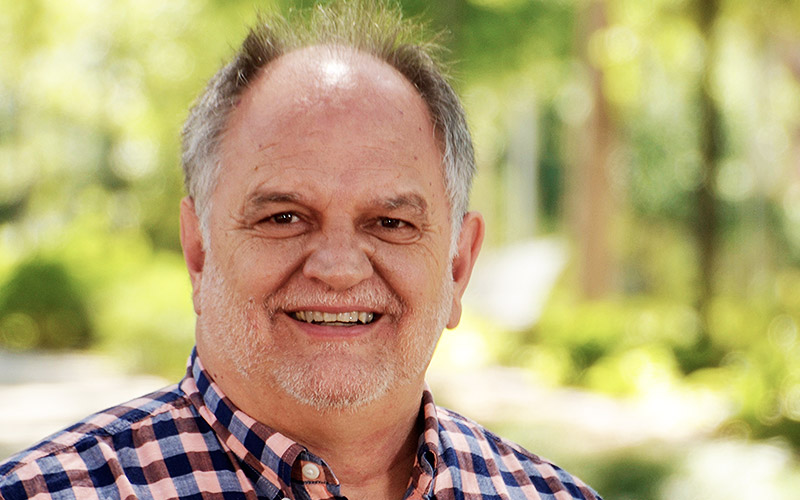 The director of our chancel choir ends his tenure with us this month. Dr. Steve Rushing has partnered with me in leading Classic Reformed Worship for the last fifteen years. His outstanding full-time vocal teaching at Southeastern University and then at Baton Rouge International School have meant that Steve's service to us has always been on a quarter-time basis. With the arrival of our first full-time worship director who is fluent in both classic and contemporary styles, there is too much overlap to continue with two choir directors. So it is with both sadness and gratitude that we bid farewell to Steve in his official capacity.
But first, we want to celebrate his work among us. Steve raised high the excellence of our choir program. He established the reputation of our music throughout the community and especially amidst the musicians in town. His gracious spirit and love for all kinds of music played a significant role in healing tensions that once existed between our worship styles. Steve has freely offered vocal lessons to many members, taking a personal interest in his choir and enhancing the careers of our student singers. And that voice! Could anyone else have sung the voice of God in Roots and Promises? The annual cantatas with orchestra have become a beloved tradition among us. Seeing and hearing Steve's great pleasure in getting the most out of his singers and musicians communicates joy to all of us. We will miss his humor, his spiritual insights and his collegiality.
Though social distancing limits our options, we can still heartily celebrate Steve on Sunday, June 21 at the 11 am service. We all want to express our appreciation for this fine Christian man, musician and vocalist.