Just Return It!
My mother was the queen of returning things. No receipt? No problem! No original packaging? Perfectly fine! My mother loved to shop. The merchants loved my mother. She enjoyed an ongoing relationship with them. Her loyalty and frequency gave her license to make returns as desired. Returning is part of trusted commerce.
We can apply this to our relationship to God! The psalmist asked "What shall I return to the LORD for all his goodness to me (Psalm 116: 12)?" He had been in an exchange with God. Life had turned dire. The psalmist had cried out to the God who made him. The Lord answered with deliverance from death and an abundance of mercy. So the writer wanted to make an offering of thanks. He wanted to return, to reply to God in grateful acknowledgement. So we can say it again, with a spiritual twist: Returning is part of trusted commerce.
As Christ's people, we live in the economy of his love. He continues to do miraculous business with us. He trades forgiveness for our sins. He swaps his peace for our anxiety. He exchanges everlasting life for our mortality. This commerce is so miraculous, we joyfully want to respond! To return thanks. To give back. To live as he directs so he will be pleased.
In this season of thanksgiving, we lift the festive cup in holy communion. We "cheers" the Lord who has given us nothing less than himself. We set aside a special day for gratitude. In days when we lived closer to the land, such a day was set between harvest time and the arrival of winter. Once "all was safely gathered in," it was time to bless the Giver.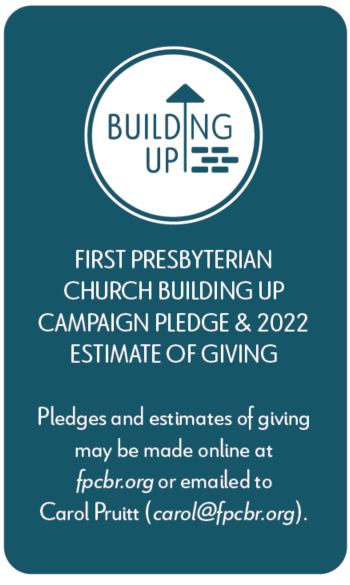 That's why I find spiritual significance in making the dedication of our gifts to God in this season. Grateful for his provision in the year that is finishing, we trust his bounty to come in the New Year. We make a thankful
return
, putting financial gifts to God's work together with our prayers of gratitude. We mirror our God's generous overflowing heart.
Every November we do this as we make commitments to Christ's work through our church for the following year.
This year, we can step further into that deep joy through the Building Up campaign. To give, over and above our usual pledges, out toward others, when there is no visible return to our church—that will launch us into the wonder of God's wondrous commerce. The spiritual return we will receive will be full of love, connection, participation and hope. November 14 is Dedication Sunday. I hope we will swell the House for this joyful celebration. Your elders are passionate about making this return. I know that, having made my pledge already, I am only more thankful to be your pastor,
Gerrit