What Does It Look Like to Walk Side by Side?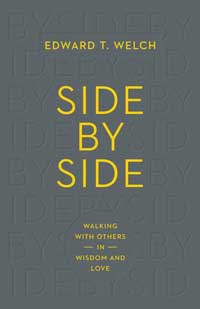 As a preacher, I really wish God worked with a different formula. Here's the one I would like: preaching=immediate change. But God's way of changing us includes another key ingredient—each other. Because God has made us as relational creatures, and because he has called us to the community of the Church, the formula for discipleship looks more like this: God's Truth, processed and experienced in community, creates change. That community piece of side-by-sideness can't be left out of the equation. It's why at First Presbyterian, we really care about community. We want people to walk side by side with each other as they process and experience together the truth of the Gospel.
Ed Welch's book Side by Side is a fabulous introduction to this idea. If you want to know some simple, practical ways that our community can process and experience the Truth of the Gospel together, start here. Here's the way Welch describes the book in the introduction…
The basic idea (of this book) is that those who help best are the ones who both need help and give help. A healthy community is dependent on all of us being both. So the book is divided into two parts. The first part guides you in sharing your burdens; the second part guides you in bearing the burdens of others… (God's formula) is the perfect system. If God only used experts and people of renown, some could boast in their own wisdom, but God's way on doing things is not the same as our way. We ordinary people have been given power and wisdom through the Holy Spirit and are called to love others (John 13: 24). From this beginning, we are compelled to move toward others rather than stay away…
We think the message of this book is so good that we're going to give these books away. Free. After our combined worship service on May 29, we will have free copies of Side by Side at the Connection Center. Just come get one. Furthermore, we're going to devote one of our Sunday school classes this July to discussing the book and its major points.
Going to the beach this Summer? Need something short but powerful that you can keep by your bedside? Why not read Side by Side? And why not read it together?
I hope you'll pick up a copy on May 29. And I hope you'll commit to read it. Talk to a friend, your spouse, your neighbor about reading it together. I think you'll be happy you did.