Joyful Relief
One of the joys of hurricane relief is spending time with homeowners as we work on repairs. One of the families we met in March was Angie and Tim Brown from Iowa, Louisiana. We were tasked with repairing the patio soffit and then priming and painting fascia boards all around the home. Our team of volunteers replaced the broken soffit and continued to put two finish coats on the exterior of the Brown's home over the course of four weeks. The contractors working on the inside of the home are hoping to complete the interior by Memorial Day. The move-in date is set for June 1. Our church family will help them move in. JOIN US.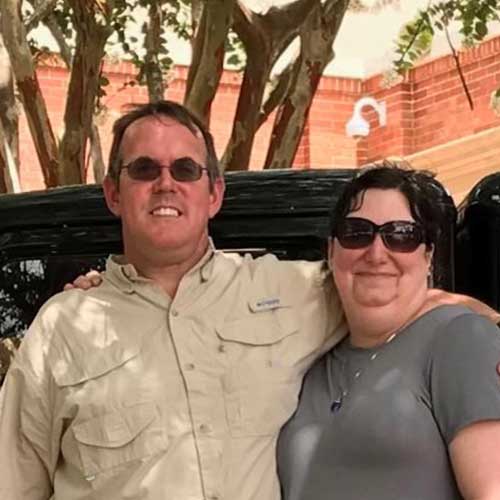 We are asking the FPCBR congregation to come alongside the Brown family and help us restock their pantry by donating a pound of rice, beans, canned goods, paper products or maybe a gift card for supplies we do not know they need. If you are interested in blessing Angie and Tim's pantry and home, please drop off these items in the gym on the Hurricane Relief tables labeled for the Brown family by June 1. Please put all gift cards in an envelope labeled, "Angie & Tim Brown" and bring to Laura Shaw's desk in the church office. This is another beautiful opportunity to care for a family in need.
Beginning May 10, a team of skilled sheetrock hangers is coming from Hope Presbyterian Church in Memphis, TN. The goal is to sheetrock six homes in five weeks. Our church will purchase the sheetrock and all that is needed to complete this project by June 14. If you desire to make a donation for this ongoing work in Iowa and Lake Charles, please go online to fpcbr.org and look for Hurricane Relief. Our church family has spent sixty days since Hurricane Laura came onshore on August 28, 2020 helping and assisting with hurricane recovery. If you are ever interested in joining us on Wednesdays and Saturdays, please SHOW UP! If you have any questions, please call me at 225.810.2607. THANK YOU for all your help and support the past eight months!