Renovations, Replacements and Repairs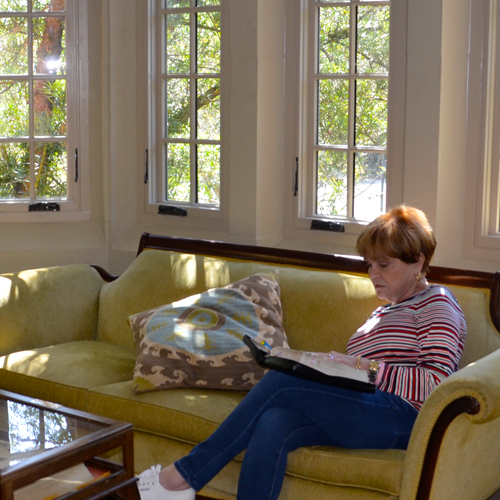 It was a blessing to return my focus (after the 2016 flood) to our beautiful campus in 2017! It has been a busy, messy, but productive year! It started with completing the replacement of all Education Building windows and the restoration of the lower stained-glass windows—which all turned out beautifully!
Before the window paint had even dried, we moved on to repairing or replacing the roofs throughout our campus. This was no small undertaking. We had eliminated roof repairs from the 2010/2011 renovation, due to downsizing the scope of the work. Many of you have pointed out damaged walls and ceilings throughout the campus, and if these issues were not fixed by the new windows, they were to be fixed with the roof repairs or waterproofing—which was coming next! From fixing the Sanctuary's pitched roof, to replacing the flat roofs over the Sanctuary and Education Buildings, to repairing every other roof, the work is nearly complete and all leaks eliminated!
Before the roofing dumpster was even gone, we were on to waterproofing, including new sealant around windows, replacement of damaged wood, to coating the buildings with special protectants. Our contractors will resume the work right after the new year.
We are already getting quotes to repair and repaint damaged walls and ceilings. Within months, we will be finished restoring the interiors and exteriors of our beautiful campus. Thank you for your generous giving which makes all this possible—and my job more fun!