What Do You Love?
"What do I love when I love you?" asked Augustine in a prayer 17 centuries ago. It's still a good question. Especially in this season of Thanksgiving. When we feel we love God, and express that in worship, what are we loving? Augustine worked on his answer. "Not the beauty of bodies, nor the fair harmony of time, nor the brightness of the light, nor the sweet melodies of songs, nor the smell of flowers, nor the limbs that physical love likes to embrace." Augustine loved all of these things but they in themselves are not God. Yet. Yet, somehow these lovely things send our love God's way. He went on,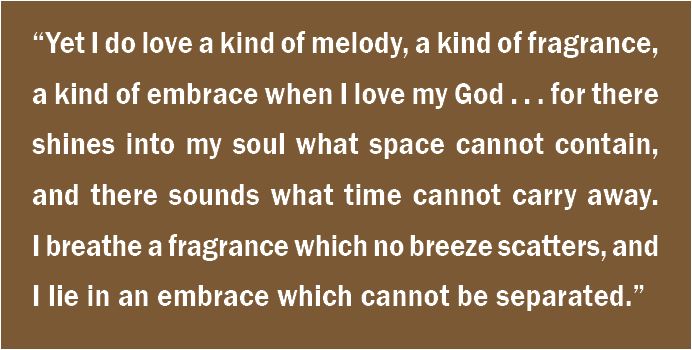 Augustine felt that the beauty in the world carried him into God's presence. Every created delight awakened love in him. Yet none of these attractions in themselves were sufficient. All this world's glory, both subtle and spectacular, directs away from itself to the deep beauty of our Creator.
Augustine felt that each thing he loved in this world spoke to him, "We are not God, but he made us." In his inner man, in his soul, Augustine perceived the light, the fragrance, the melody and the embrace of the Triune God. In him alone, these delights of earth do not pass away. Rather they lead us up in gratitude and worship to know the God who himself is light uncreated, everlasting song and eternal embrace of love.
As you pause to give thanks this month, may you rejoice fully in all that is good in the world of which you get to partake. But I pray that each of these will speak to you: we are not God, but he made us. Look upward, beloved, to the Source, and rejoice in his eternal being! Know that as we sit down to table, Rhonda and I will give hearty thanks for you! I love to be your pastor!