We Want Our Children to Live for Him!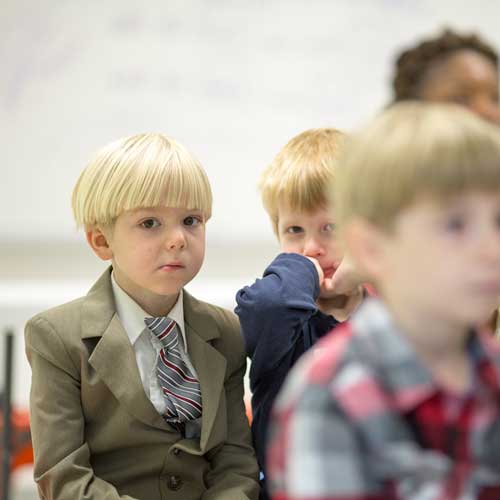 The Scriptures testify to the supremacy of Christ Jesus, and this affects everything about Children's Ministry. I recently read through the Old Testament and was delighted to discern the many ways that the Law and the Prophets anticipate the coming of Jesus. As I moved on to the New Testament, I also began reading a short book on redemption by Sandy Willson (yes, the father of our beloved Mary). This was no coincidence. I could not help but humbly ponder the redemptive work of our Savior at the center of all our blessed work we do here in Children's Ministry at First Presbyterian Church.
The cry of our Children's Ministry is, "that in everything Christ might be preeminent!" (Colossians 1: 18) Here at First Presbyterian we teach our children what it means to have a Christ-exalting life by equipping them with the tools they need to get there: prayer, gospel love and theologically sound lessons that point our kids to Jesus in every story. We want our kids of First Presbyterian Church not just to know about God but to know him in a deep way, such that they would rely upon him in all things. We want our kids to know that Jesus is our all and all so that they may turn to him, pray to him, believe him, trust him and live for him! This is our mission and our prayer.
We teach our children of First Presbyterian about our Triune God, so that they may learn how God the Father creates and watches over us, how God the Son saves and sustains us and how God the Holy Spirit plants faith in our hearts in order to grow it. Our children see the healing mercies of Jesus and how he provides for his people. We, as a church, model this to our little ones and model it well, by God's grace. We show our kids what it means to engage in his mission and what it looks like to take up our cross in order to serve him wholeheartedly. Our church loves our children and they flourish in this place where they are "so loved" and nurtured! Just as our beloved Pastor Gerrit teaches our congregation to return the blessing to God by boldly reading Scripture aloud, the children are reciting and reading Scripture out loud. What music to the ears of our Father in heaven this must be!
So as you observe our Children's Ministry program here at First Presbyterian Church, look for Christ. He is on the move! You can see him through our many volunteers pouring into the lives of our little ones. You can see him when you see prayer cards the children have written out on Sunday mornings. You can see him when our children are offering their only coins and dollars, or simply touching the offering plate giving himself or herself to God. You can see him in the attentiveness as they receive gospel-centered teaching in Sunday school. Their hearts are hungry and we want to all take part in equipping these little ones early so that they may know him and accept him as their personal Savior.
I am honored and truly blessed to take part in the life of each child—your child. My family and I reap the blessing of this God-given mission every day. I am grateful to walk alongside you as a sister, parent and friend. May Jesus Christ be praised!