The Expression of Truth Through Art
As a musician I often think about beauty and the expression of truth through art. If we use the most puritanical lens, beauty could be seen as a distraction-maybe even a temptation. Do we really need form as long as we have function? Aren't frills frivolous?
Since her time hiding in the Roman catacombs, the church has struggled to define her relationship to beauty. Augustine worried about being seduced by the artistry of the singer rather than the sublime truth of the text being sung. At times, the church has adorned her sanctuaries with painting, sculpture and iconography. At other times, she has abandoned this adornment, shattering stained glass and choosing white walls over detailed murals.
For me, many answers to questions about beauty can be found in the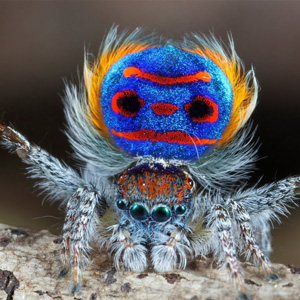 existence of a tiny little critter called the peacock spider. The peacock spider will fit on the tip of your finger with room to spare. You could easily miss him. You may have squashed him. If you get really close, however, you will see a work of art. These tiny arachnids carry on their backs paintings worthy of wall space in a fine gallery. Do an image search in your web browser and discover the delights of the peacock spider's plumage.
The existence of the peacock spider tells us something about the nature of our God. He made a cosmos that is extravagantly, unnecessarily beautiful. Creation is as much a canvas as it is a construction. God designed a sturdy creation that functions well. He also made something gorgeous. As creatures, we must praise such a Creator. We can delight in his stunning artistry. We can celebrate our individuality.
Blessed be the Lord, the God of Israel,
who alone does wondrous things.
Blessed be his glorious name forever;
may the whole earth be filled with his glory!
Amen and Amen!
Psalm 72: 18-19