Saying Goodbye to Everything Familiar
What would cause an apparently sane pastor and his beautiful wife to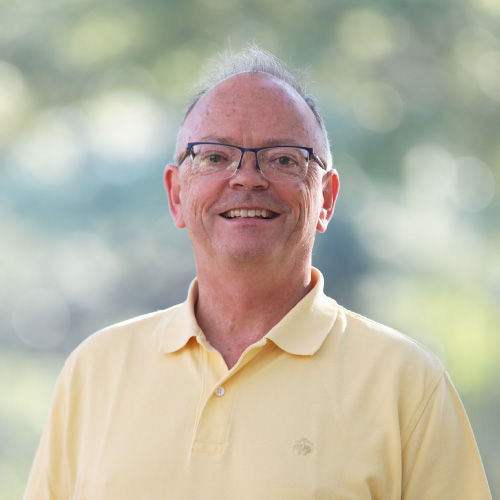 say goodbye to everything familiar in western Pennsylvania and move 1200 miles to Baton Rouge?
Before I answer that question, let me share a little more about myself. My wife Kristina and I are Midwesterners, and met in music school at Northwestern, outside Chicago. We've been married 33 years, and have three grown children: Jessica, married to Taylor, and their darling 1 year old daughter Ruby, who live in Tacoma, WA; son Emerson, in Pittsburgh; and our youngest, Ian, and his wife Sarah, who reside in Washington DC. Our only companion at home currently is our black sheepadoodle, Schubert, who is an excellent social coordinator and face licker!
Kristina and I enjoy hiking, music and concerts of all sorts, conversations over open Bibles and good food, and traveling. In fact, I would say we've developed a healthy sense of adventure over the years, based on following God's call, what the Iona Christians in Scotland several centuries ago called "chasing the wild goose." My Masters of Divinity was gained at Fuller Seminary in Pasadena, California, with a year of post-graduate study at Blackfriars, Oxford University, a Dominican (Catholic) priory. I tell people that year I felt like Julie Andrews in reverse! I've been in ordained pastoral ministry since 1992, serving Presbyterian churches in the Cincinnati and Pittsburgh areas. I've also had the opportunity to do some mission teaching in Albania and Sierra Leone, and am currently serving as board chair for an organization called Edunations, which has been planting EPC churches as well as schools across several rural villages in West Africa, presenting the gospel to several tribes that have never had the opportunity to hear of Jesus Christ's saving love before.
My role at FPCBR is Associate Pastor for Pastoral Care, Prayer, and Spiritual Formation. Kristina and I were mostly minding our own business one evening when an email popped up on my screen from Gerrit Dawson. I certainly knew and respected Gerrit and First Presbyterian from a distance (my only previous time in LA was when you hosted the 2012 EPC General Assembly!), but I had never considered pastoral work in the south, much less THIS far south! Yet when the search committee sent the job description my way, we could tell the Lord was very much at work. I am extremely grateful for Biblically grounded, excellent preaching. I rejoice over gifted choirs and praise teams glorifying God with the congregation. I insist on being a part of a community of faith committed to mission both locally and internationally. But I also recognize that for many, growing in faith and trust in God's character come when we are faced with difficulty or suffering. Pain, loneliness, grief, or crisis often provide the richest soil for biblical faith to flourish (see Hebrews 11). So, to answer my opening question: we're in a new place because we're excited to participate in the adventure of faith, hope, and love in Christ with you. Our Triune God is doing his wonderful work in the sanctuary, around the dinner table, and even by the hospital bed. It will be a joy to sit beside yinz/y'all as he does!