Lent - Day 15
MOVING INTO THE LAST NIGHT
Week 3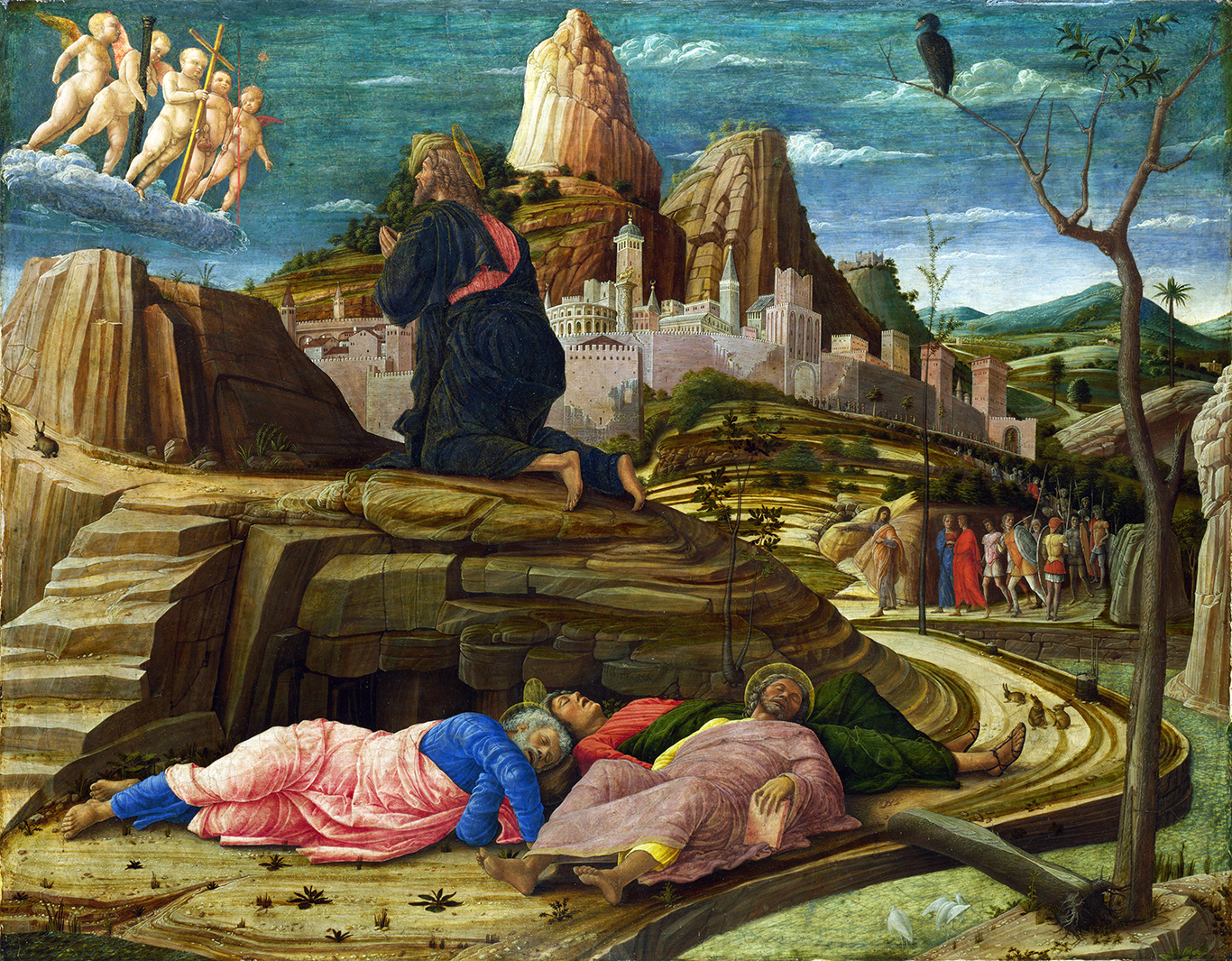 Andrea Mantegna. The Agony in the Garden. 1455.
By midweek, Judas had made a deal with the religious leaders to lead them to Jesus when he was away from the crowds.
In his last day at the Temple, Jesus watched a poor widow offer two copper coins and found encouragement in her faith to give gratefully all she had. Then, he prepared for his final Passover celebration with his disciples.
Before the meal, he took the servant's role and washed their feet, giving them a picture of what it meant to live from his love. Then, during the sacred meal itself, Jesus inaugurated the sacrament that would continue in his memory until the end of time.
He sadly predicted the betrayal of Judas, the denial of Peter and the falling away of the disciples. We will see ourselves in each of these characters.
Jesus' deepest struggle occurred after dinner in the Garden of Gethsemane. His work of bearing the sin of the world had begun and his heart recoiled at the spiritual and physical agony that lay ahead.
When he had resolved his resistance into obedience, calm pervaded Jesus as he faced those who came to arrest him.
In this vibrant painting by Andrea Mantegna (1455) we see Jesus in the Garden resolving "Nevertheless, not what I will, but what you will be done." And we see our representatives on the scene, Peter, James and John asleep in a heap, even as the mob comes to arrest Jesus.
Day 15 Sunday
THE FAITHFUL WIDOW

That which we have seen and heard we proclaim also to you, so that you too may have fellowship with us; and indeed our fellowship is with the Father and with his Son Jesus Christ (1 John 1: 3).

FOLLOWING THE SCRIPT
Mark 12: 41-44
And he sat down opposite the treasury and watched the people putting money into the offering box. Many rich people put in large sums. And a poor widow came and put in two small copper coins, which make a penny. And he called his disciples to him and said to them, "Truly, I say to you, this poor widow has put in more than all those who are contributing to the offering box. For they all contributed out of their abundance, but she out of her poverty has put in everything she had, all she had to live on."
CAST NOTES
The widow brought two copper coins, the equivalent of a penny, which in those days was 1/64 of a denarius, a day's wage for a common laborer. So, in today's terms, it was about $1.25.
Jesus found her offering to be more than the enormous gifts of the well to do. They gave out of abundance, out of surplus. She gave out of scarcity, out of the "capital" she had for daily sustenance. In fact, she left herself no reserve for living.
We might consider her foolish. After all, what difference would her gift actually make in the annual budget of the Temple? In what normal logic would it ever seem either prudent for herself or helpful to the Temple for her to give her last resource?
Yet, there was precedence. The widow of Zarephath was preparing what she thought was her final meal from a handful of flour and a bit of oil. But when she agreed to share that morsel with the prophet Elijah, the LORD multiplied her flour and oil for days and days (1 Kings 17: 8-16). When five loaves and two fish were offered to feed five thousand, by the Lord's prayers they were all fed with baskets left over (John 6: 1-14).
She gave out of her poverty because she considered even that to be a participation in the LORD's abundance. When wealth is an end in itself, we never feel we have enough. When God is our all, a morsel becomes riches. Indeed, the heart of faith was revealed all the way from the father of faith, Abraham, who discovered in ever increasing depths that "The LORD will provide" (Gen. 12: 1, 22: 8).
PRAYING IN CHARACTER
I rise this day to give you thanks.
The night has passed. Another day is granted.
My heart beats. I breathe. I see.
My mind can still remember.
Days of growing up. A sister. Brothers.
Mother telling me of your mighty deeds.
Father saying prayers around the table.
Days with a husband, days of raising children.
So much given to me. So much now gone.
But I do not embitter your gifts because I held them only briefly.
They were never mine to keep.
But they are mine to give thanks for and to give to you.
Once again.
So I find that I yet have strength to rise from bed,
A voice to say prayers aloud,
Water for washing and for drinking.
Bread to eat. You give me all of this today.
And more. Today I will go to your house.
To the meeting place. Where your name dwells.
Where the world comes to pray.
And I will pray, I will give thanks.
And this day, oh this glorious day, I get to matter.
Because you have given me coin to share.
To contribute to your house.
To have a place among those who come as one who also gives.
You have given me so much!
All I have comes from you and I give it all to you in praise.
I will go to your House.
In your presence is fullness of joy.
In your right hand are pleasures forevermore.
No good thing do you withhold. . . .
How rich I am with your wealth
No thing would I withhold from you,
My Father, my King, my God, my Hope!

These are written so that you may believe that Jesus is the Christ, the Son of God, and that by believing you may have life in his name (John 20: 31).