Lent - Day 36
MEETING THE RISEN JESUS
Week Six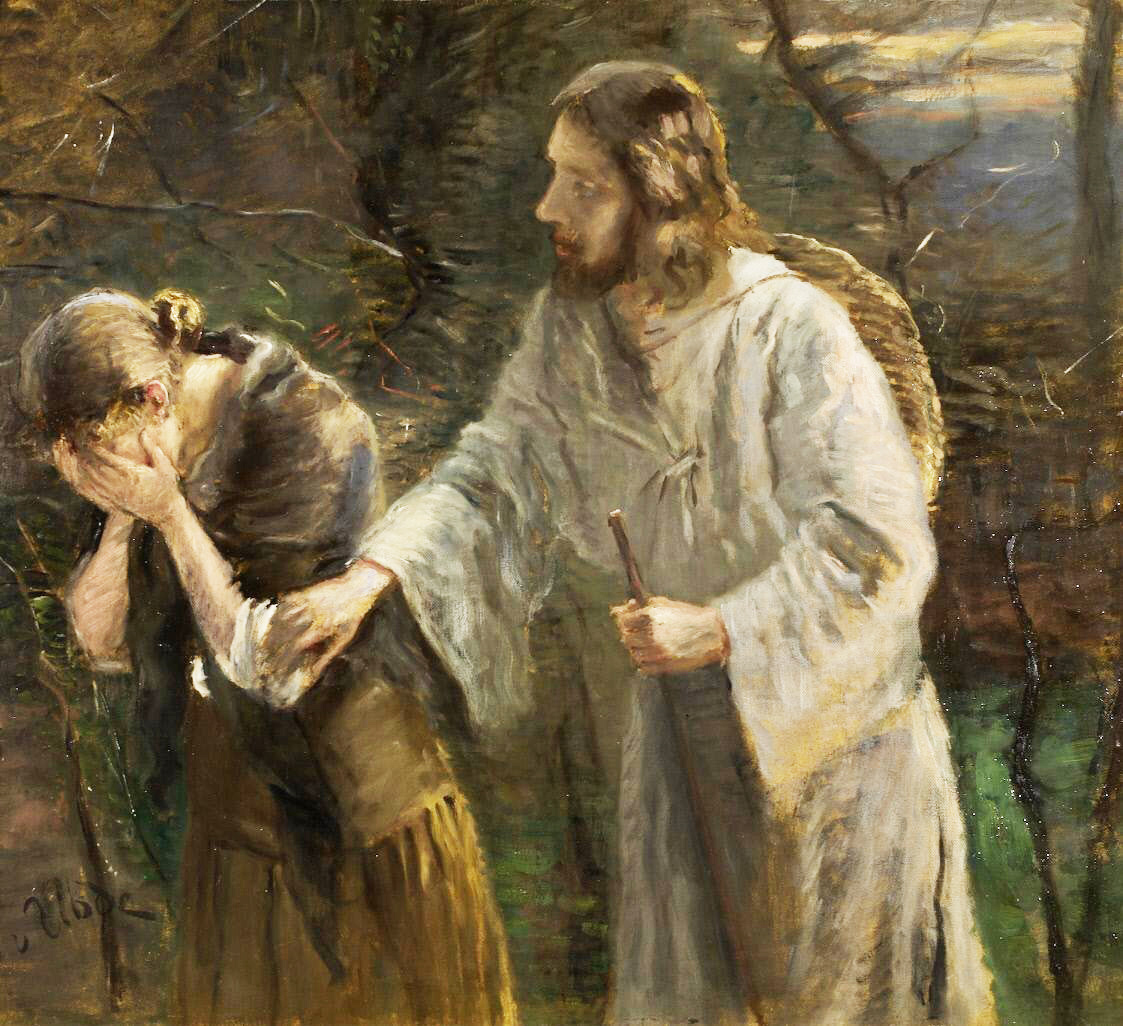 Fritz von Uhde. Woman, Why Weepest Thou? 1892.
Beyond hope and any expectation, Passion Week ended in triumph. The great reversal occurred when the verdict of "guilty" upon Jesus got reversed by the only true Sovereign Judge. In raising Jesus, the Father vindicated the Son. He answered Pilate's declaration in presenting a battered and defeated Jesus. Now as the stone popped off the tomb, the Father declared to the world, "Behold the man!" Jesus emerged rippling with everlasting life in a restored, renewed and eternally resurrected body.
Jesus began to reclaim his disheartened disciples. We see him act almost playfully as he takes his time revealing himself to Mary in the garden and the disciples along the road to Emmaus.
Poignantly, he shows himself to Thomas who had missed his first appearance. And tenderly he restores Peter from a threefold denial through an opportunity to declare his love three times, and receive his mission, the mission of the church in triplicate.
Artist Fritz von Uhde tenderly depicts Jesus reaching to Mary as he calls her name, turning her dismay to joy.
Day 36 Sunday
THE MARYS

That which we have seen and heard we proclaim also to you, so that you too may have fellowship with us; and indeed our fellowship is with the Father and with his Son Jesus Christ (1 John 1: 3).

FOLLOWING THE SCRIPT
Matthew 28: 1-10
Now after the Sabbath, toward the dawn of the first day of the week, Mary Magdalene and the other Mary went to see the tomb. And behold, there was a great earthquake, for an angel of the Lord descended from heaven and came and rolled back the stone and sat on it. His appearance was like lightning, and his clothing white as snow. And for fear of him the guards trembled and became like dead men. But the angel said to the women, "Do not be afraid, for I know that you seek Jesus who was crucified. He is not here, for he has risen, as he said. Come, see the place where he lay. Then go quickly and tell his disciples that he has risen from the dead, and behold, he is going before you to Galilee; there you will see him. See, I have told you." So they departed quickly from the tomb with fear and great joy, and ran to tell his disciples. And behold, Jesus met them and said, "Greetings!" And they came up and took hold of his feet and worshiped him. Then Jesus said to them, "Do not be afraid; go and tell my brothers to go to Galilee, and there they will see me."
CAST NOTES
Mary was a popular name in New Testament times! Mary, Jesus' mother, and Mary of Bethany who anointed Jesus were not one of the Marys named in this account. These were Mary Magdalene, from whom Jesus had cast out seven demons, and Mary the mother of James, Joseph and Salome, about whom we know little.
They had come early on the first day of the week to complete the burial process interrupted by the Sabbath that began Friday evening. They expected to tend the dead. Instead they found the stone rolled back, the guards paralyzed with awe, angels proclaiming resurrection and then Jesus himself alive!
How can we describe their experience? Master storyteller J.R.R. Tolkien coined the term eucatastrophe for this sudden reversal where something horrible becomes wonderful beyond hope. It's a "good" catastrophe which changes everything. Tolkien wrote in a letter to his son that the eucatastrophe in a story:
. . . pierces you with a joy that brings tears . . . it produces its peculiar effect because it is a sudden glimpse of Truth, your whole nature . . . feels a sudden relief as if a major limb out of joint had suddenly snapped back. It perceives . . . that this is indeed how things really do work in the Great World for which our souls were made . . . the Resurrection was the greatest eucatastrophe possible . . . and produces that essential emotion: Christian joy which produces tears because it is qualitatively so like sorrow, because it comes from those places where Joy and Sorrow are at one, reconciled, as selfishness and altruism are lost in love.
We have glimpses of this wonderful, piercing resurrection joy. When you thought you were ruined and a solution came through at the last moment. When you knew you were going to die, then didn't. When you thought a loved one was lost, for good, but then she came home. When you thought the relationship was broken forever and then you reconciled. But all of these are caught up, raised higher in the great, glorious reversal that the Marys were first to witness. they mocked Jesus breaks my heart. And all the more when I imagine my own participation.
PRAYING IN CHARACTER (11th C. LATIN PRAYER)
Come Christian, bring your sacrifice
Of praise to Jesus Christ,
Our conquering victim and
Our Easter king.
Jesus, the sinless lamb,
Has saved the sinful flock and
Reconciled us to the Father.
Death and life have wrestled
In a wondrous fight,
The leader of the living
Fell to the powers of night
Dead, yet he reigns in power
His strange victory to share.
Speak, Mary, friend of Christ,
What did you see on sorrow's road?
Tell us your story.
"I saw the tomb of the living Christ.
I saw his resurrection glory.
I saw the witnessing angels.
I saw the head-cloth and the shroud.
Christ my hope has risen,
And goes before his own to Galilee."
Trust Mary, believers, for only she has truth to tell,
Unlike the falsifying crowd of rumour-makers and deceivers.
We know that Christ is truly risen,
Defeating death and hell's dark thrall.
So conquering king, have mercy on us all, Alleluia.
These are written so that you may believe that Jesus is the Christ, the Son of God, and that by believing you may have life in his name (John 20: 31).