It's hard to believe that we have been here at First Presbyterian for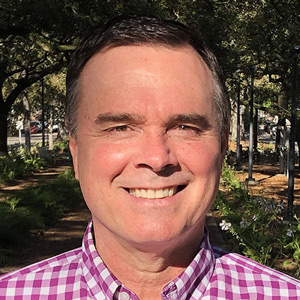 almost three months. What a blessing it has been to step into this new and exciting role. You have all been so gracious to Lisa and me. We quickly experienced the love and family of First Presbyterian on so many levels. We have embraced the staff, worship ministry team and congregation to the point where we feel like we are already a part of this amazing church family.
My faith journey began while attending a Christian youth church camp in Hawaii. Even though I grew up in a pastor's home, it wasn't until my teen years that I placed my faith in Christ. Those early years as a follower of Christ were forming as God was preparing me for something bigger than myself and something that I would embrace with my entire being.
My story as a Director of Worship began while I was attending college in Oklahoma. Sitting on my dorm room bed during my devotional time, God impressed upon me his purpose for my life. It was one of the most real experiences I have ever been a part of. My commitment to serve Christ faithfully in the ministry of music and worship began that day and continues to this day. The passion and pursuit to be a true worshiper who worships in spirit and in truth is the heartbeat of my ministry and my life. The desire to share that passion with the local church is who God designed me to be.
I am so excited to be in a church that shares the same heartbeat for worship and ministry.
Thank you for being who you are in Christ to reach the city of Baton Rouge and beyond. We so look forward to getting to know each of you personally. A special thank you to the search committee and staff team for being an integral part of this journey and process. May God be glorified in all things. To God be the glory and honor.
By Steve Newman
Worship Director